Technology Resume Template
Here's Critique of a technology resume template:

Dear Alissa,

Given your technical skills, I chose an "IT" format for your resume. The Information Technology format organizes your technical expertise at the top of the resume, so that hiring managers can readily see your skills. Additionally, the placement of your name flush left with your contact information flush right gives the document a modern look, as does the use of Arial type.

I began the body of your resume with a brief qualifications section in which I emphasized your work in producing interactive training CDs and your jobs as a Flash Developer & Graphic Designer. I ended this section with a reference to your Mass Communication degree.
Free Online Resume Builder Tool: Use this tool to build a high quality resume in about ten minutes.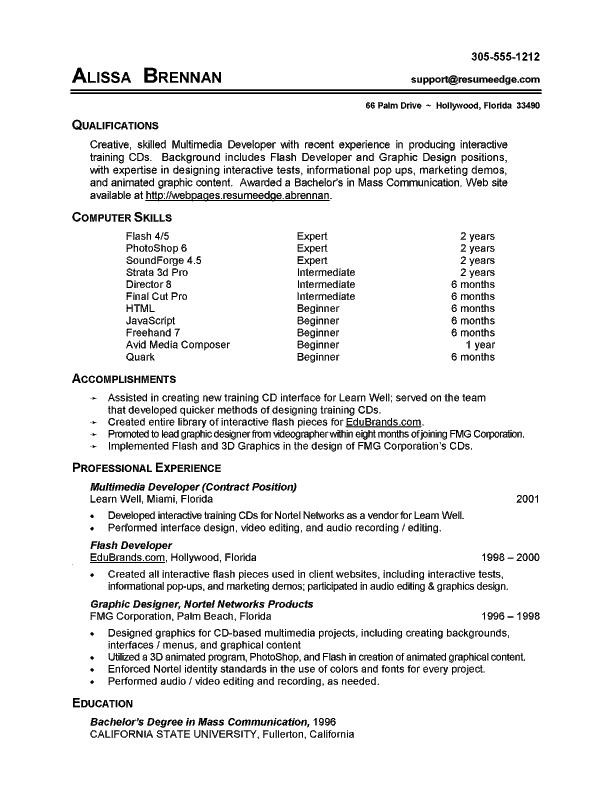 Critique of a technology resume template (continued)
Next, I listed your many computer skills. I did choose to exclude the "Last Used" column since Avid Media Composer and Quark 4.0 were the only listings that weren't current.


Rather than listing your accomplishments in the Professional Experience section, I chose to pull them out and present them under their own tag. In each instance, I added the company name where these achievements occurred.


Next, I listed your jobs and their descriptions in the Professional Experience section. Because your titles were most impressive, I led with them rather than with the company name and listed Learn Well as your most recent position. There are two reasons for this. Although you've been employed by DHL since October as a package handler, this position does little to enhance an IT resume.
Besides, your position as a Multimedia Developer is recent enough to list it first. Secondly, I did not say you were self-employed. Rather, I listed Learn Well as your employer (after all, the work you did was for them and they paid you for it), and then added in parentheses "Contract Position." This clearly explains your position with that company.

I began each bullet of this and the accomplishments section with the strongest action verbs possible, while also condensing or rewriting the text for conciseness and maximum impact.

For example, you wrote:

"In charge of creating graphics for CD based multimedia projects. Graphics include backgrounds, interfaces/menus, and graphic content."

I rewrote this to read:

"Designed graphics for CD-based multimedia projects, including creating backgrounds, interfaces / menus, and graphical content."

In another example, you wrote:

"Started as an entry level videographer and within 8 months became lead (the only) graphic designer."

I rewrote that to read:

"Promoted to lead graphic designer from videographer within eight months of joining FMG Corporation."

Technology resume template critique
I ended the resume with your academic data. As with your job titles, I chose to put your Bachelor's Degree above the school name rather than beneath it.

All decisions to modify or delete data were in keeping with the standards and guidelines of the Professional Association of Resume Writers (PARW).

With this resume, you now have a powerful tool that's well-organized and aesthetically pleasing.

It was a pleasure serving you, Alissa. Good luck in all your future endeavors.

CyberEdit Editor
Certified Professional Resume Writer (CPRW)
Free Online Resume Builder Tool: Use this tool to build a high quality resume in about ten minutes.
Top Resume Builder
Over 180 easy-to-use proven resume and cover letter
templates and examples that guarantee job offers in 30 days.
TopResumeBuilder.com

Create Your Resume In 9 1/2 Minutes With the FREE "Top Resume Builder"!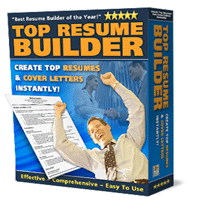 Struggling to write your resume? Worried about getting job offers? Get the FREE Top Resume Builder ($97 value) now!
Save hours writing your resume.
Save hundreds of dollars hiring a professional writer.
Over 35 proven resume templates created by a resume expert.
No software to install. All templates are in Microsoft Word format.
Immediate download so that you can start right away.
Hurry! We are offering the Top Resume Builder for . After that date, we're selling it for $49.97. So get it free now before it's too late!
Just subscribe to our free Top Career Newsletter by submitting your name and email below. And we'll send you the Top Resume Builder right away.
Note: The Top Resume Builder will be emailed to you. So please submit your actual email.
Privacy Policy: Your email address is Private and Confidential and will NOT be rented or sold to any party. You can unsubscribe at anytime. We hate spam as much as you do!
Click Here For More Technology Resume Templates.