Law Student Resume
Here's A Critique of a student resume:

Dear Christopher,

After studying your skills and your stated goal of securing law school admission, I chose a "Returning Student" format that would highlight both your business experience and the skills that you gained during that employment.

I placed your contact information on the left margin. This way, it will be accessible should a law school representative want to contact you for more information, but it does not draw the eye away from the rest of the information on your resume.

I moved your education information to the bottom of your resume, since you have solid professional experience.
Free Online Resume Builder Tool: Use this tool to build a high quality resume in about ten minutes.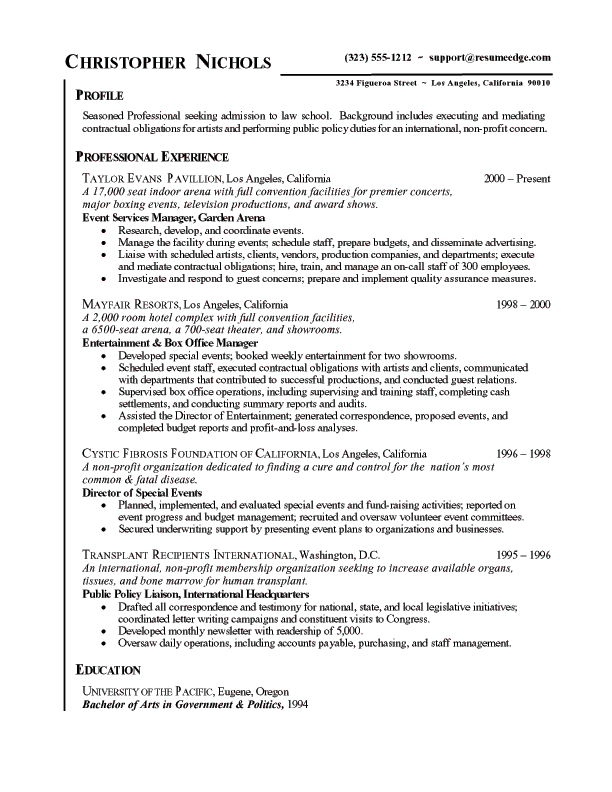 Critique of a student resume (continued)
I then wrote a profile that states your goal of law school admissions and showcases the skills you have honed throughout your work experience, in particular performing public policy and executing / mediating contractual agreements.


I then included a "Professional Experience" section, beginning each bullet point with the strongest action verb possible, while also revising text for clarity and conciseness.


For example, you wrote:


· Coordinating the operational aspects of events and managing the facility during scheduled event activities. This includes, but is not limited to, execution and/or mediation of contractual obligations to artist or client, staff scheduling, budget preparation, dissemination of event information, event settlement, and liaison between the Pavillion, its scheduled artists, clients, vendors, production companies and departments.


I rewrote this information into two bullets, which read:


· Manage the facility during events; schedule staff, prepare budgets, and disseminate advertising.


· Liaise with scheduled artists, clients, vendors, production companies, and departments; execute and mediate contractual obligations; hire, train, and manage an on-call staff of 300 employees.


In another example, you wrote:


· Seeking underwriting support via business proposal and personal contact.


· Presenting event plans to organizations, committees and businesses to solicit support.


I condensed this information into one bullet, which reads:


· Secured underwriting support by presenting event plans to organizations and businesses.

Critique of a student resume:
Because space was such an issue, I deleted the last position you had on your original resume. As it was an internship, you did not exhibit any skills in this position that you did not in your other four, and I decided that it was best to emphasize your most impressive positions rather than to make your resume look cramped.

I then presented your education information so that it is visually accessible for admissions representatives.

All decisions to modify or exclude data were in keeping with the guidelines and standards set forth by the Professional Association of Resume Writers (PARW).

With this resume, you now have a powerful tool that showcases the skills that you have developed in your last four positions. These are some of the same skills that will make you very attractive to law school admissions committees.
I also made every attempt to make your resume more visually accessible and pleasing. It was a pleasure serving you, Christopher.

Good luck in all of your future endeavors.

ResumeEdge Editor
Certified Professional Resume Writer (CPRW)
Free Online Resume Builder Tool: Use this tool to build a high quality resume in about ten minutes.
Top Resume Builder
Over 180 easy-to-use proven resume and cover letter
templates and examples that guarantee job offers in 30 days.
TopResumeBuilder.com

Create Your Resume In 9 1/2 Minutes With the FREE "Top Resume Builder"!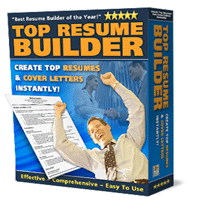 Struggling to write your resume? Worried about getting job offers? Get the FREE Top Resume Builder ($97 value) now!
Save hours writing your resume.
Save hundreds of dollars hiring a professional writer.
Over 35 proven resume templates created by a resume expert.
No software to install. All templates are in Microsoft Word format.
Immediate download so that you can start right away.
Hurry! We are offering the Top Resume Builder for . After that date, we're selling it for $49.97. So get it free now before it's too late!
Just subscribe to our free Top Career Newsletter by submitting your name and email below. And we'll send you the Top Resume Builder right away.
Note: The Top Resume Builder will be emailed to you. So please submit your actual email.
Privacy Policy: Your email address is Private and Confidential and will NOT be rented or sold to any party. You can unsubscribe at anytime. We hate spam as much as you do!
Click Here For More Student Resume Tips.