Sample Sales Resume
Here's A Critique of a sample sales resume:

Dear Richard ~

Keeping in mind your stated goal to use this resume to move into pharmaceutical sales, I chose an "Accomplishments" format to best display your skills. This style emphasizes career achievements in a format that's elegant and stylish.

I began your resume by increasing the size of your name so that it would stand out from the rest of the text. I then separated your most important contact information - phone number and email - placing one flush left and the other flush right, so that a hiring manager could easily access this data.
Free Online Resume Builder Tool: Use this tool to build a high quality resume in about ten minutes.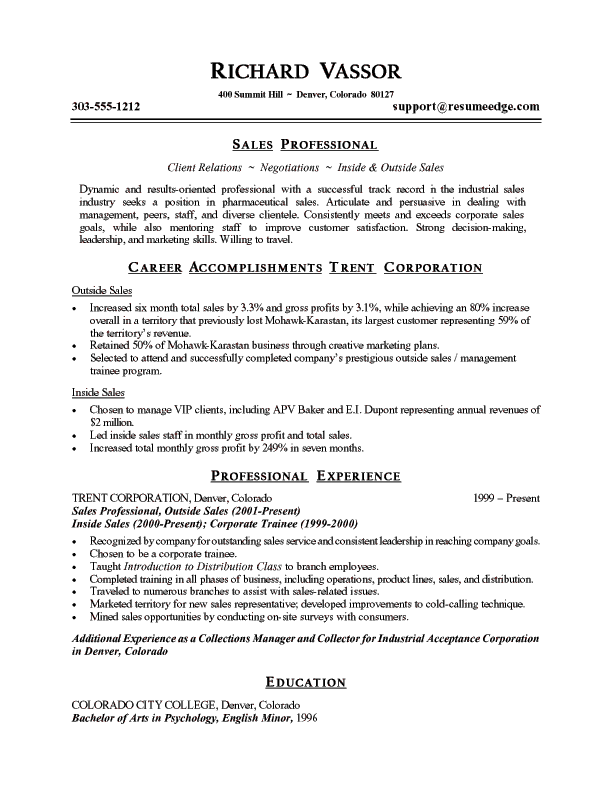 Sample sales resume critique:
In the body of the resume, I began with the tag "Sales Professional" followed by your skill set - "Client Relations, Negotiations, Inside & Outside Sales." At a glance, a hiring manager knows where you've been and where your career is headed.


In the brief paragraph that follows, I summarized and emphasized your qualifications. Unlike an Objective that merely states what you want, a Qualifications Summary tells a hiring manager what you can do for his company. As a sales professional, you well know that you're sending a powerful message by putting a hiring manager's needs above your own. In this paragraph, I wrote of your successful track record in industrial sales and your desire to move into pharmaceutical sales.
I described you as dynamic (a stronger descriptor than "high energy") and results-oriented. I said that you were articulate and persuasive (solid communication skills) and that you had special abilities in your attention to detail, decision-making, organization, and marketing plans. Because most sales people are only concerned with making the sale, I believe these last skills will put you far ahead of the other applicants. I did add that you were willing to travel. If you want that excluded, please let me know.

Sample sales resume critique:
In the next section, I emphasized your career accomplishments with Trent Corporation, detailing your achievements under the appropriate subheadings. Here, I revised text for clarity, conciseness, and maximum impact.


For example, you wrote in two bullets:


After being given a territory, which lost the business from it's largest customer (Mohawk-Karastan, 59% of sales) showed a 3.3% increase in total sales and 3.1% increase in gross profit percentage through September 2001.


Achieved an 80% sales increase overall in accounts excluding Mohawk-Karastan.


I revised that to one bullet that reads:


· Increased six month total sales by 3.3% and gross profits by 3.1%, while achieving an 80%


increase overall in a territory that lost Mohawk-Karastan, its largest customer representing 59% of revenue.


I feel it's particularly important to state that you accomplished these increases in a mere six-month period.


I also revised the data in the Professional Experience section.


Here, you wrote:


Trained to understand industrial sales in all facets of the business. Participated in delivery, shipping and receiving, accounts receivable/payable, warehouse management, operations, outside sales, and inside sales.


· Have successfully completed technical classes on all company product lines and counselor sales training.


I revised this to one bullet that reads:


· Completed training in all phases of business, including operations, product lines, sales, and


distribution.


You'll notice I added only those activities that directly relate to or are transferable to sales in another industry. In healthcare, the mention of product lines is especially important.


Because of space considerations (a one-page resume is the industry standard) and due to relevancy, I condensed your work with the Industrial Acceptance Corporation to one line. It adds little to your proven, stellar performance with Trent Corporation.


I excluded the line that reads: "Maintain existing customer base and grow new business through excellent customer service, timely accurate processing of orders, daily technical support, and building relationships through integrity." All of these are "soft" skills that aren't backed up by hard data, such as your increase in sales despite losing Mohawk-Karastan's business. Also, much of the above line deals with tasks that are assumed. Rather than include everything you did, I chose to emphasize your most important accomplishments as you have less than seven seconds to impress a hiring manager.


I ended your resume with an education section.

All decisions to modify or exclude data were in keeping with the guidelines and standards set forth by the Professional Association of Resume Writers (PARW).

With this resume, you now have a powerful tool that's well-organized and filled with pertinent data, while also being aesthetically pleasing.

It was a pleasure serving you, Richard. Best of luck in all your future endeavors.

ResumeEdge Editor
Certified Professional Resume Writer (CPRW).
Free Online Resume Builder Tool: Use this tool to build a high quality resume in about ten minutes.
Top Resume Builder
Over 180 easy-to-use proven resume and cover letter
templates and examples that guarantee job offers in 30 days.
TopResumeBuilder.com

Create Your Resume In 9 1/2 Minutes With the FREE "Top Resume Builder"!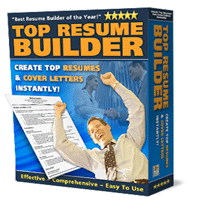 Struggling to write your resume? Worried about getting job offers? Get the FREE Top Resume Builder ($97 value) now!
Save hours writing your resume.
Save hundreds of dollars hiring a professional writer.
Over 35 proven resume templates created by a resume expert.
No software to install. All templates are in Microsoft Word format.
Immediate download so that you can start right away.
Hurry! We are offering the Top Resume Builder for . After that date, we're selling it for $49.97. So get it free now before it's too late!
Just subscribe to our free Top Career Newsletter by submitting your name and email below. And we'll send you the Top Resume Builder right away.
Note: The Top Resume Builder will be emailed to you. So please submit your actual email.
Privacy Policy: Your email address is Private and Confidential and will NOT be rented or sold to any party. You can unsubscribe at anytime. We hate spam as much as you do!
Click Here For More Sample Sales Resume And Proven Resume Tips.