Sample Accounting Resume
Critique of a sample accounting resume:

Dear Paul,

Given your impressive background and your targeting a CFO position, I chose an "executive" style format for your resume. The executive-style format employs the Times New Roman font and is organized for conciseness and clarity, while also retaining an airy, uncluttered look. The resultant document is easy to read and quite elegant in appearance.

I began the resume by centering & bolding your name, then increased its size for emphasis. Next, I separated your contact information, with your phone number flush left and your email flush right, so a hiring manager could easily locate this data.
Free Online Resume Builder Tool: Use this tool to build a high quality resume in about ten minutes.
In the body of the resume, I began with the tag "Chief Financial Officer." A hiring manager instantly and clearly sees your target. Beneath that, I included your skill areas of "Management Development, Strategic Planning, Financing, and Investments."
In the brief paragraph that follows, I emphasized your success in operations management to achieve the organizational mission. I also emphasized your communication skills, your technical proficiency, and your membership with the AICPA. In the bulleted section, I used noun phrases taken from the body of your resume to further present your capabilities.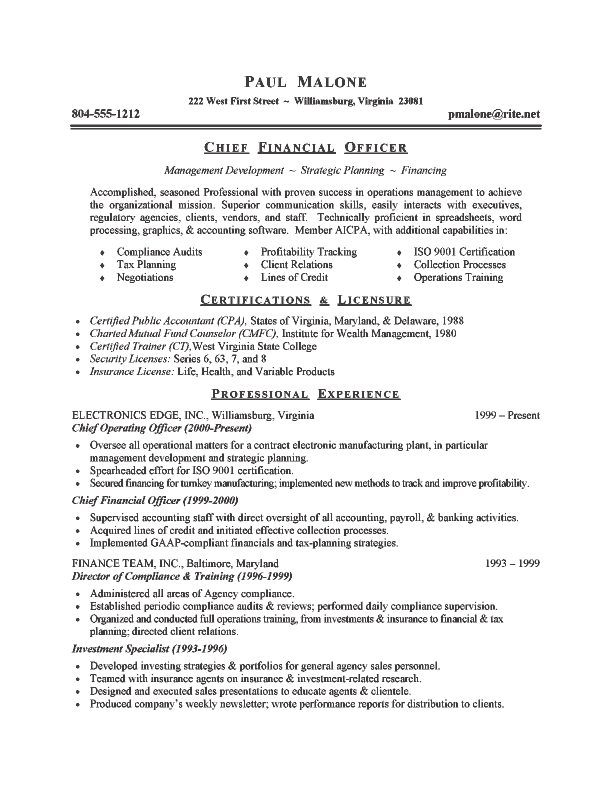 Sample accounting resume critique (continued)
Next, I listed your Certifications & Licensure. I feel these are critical in your job search and quite impressive.

In the following section, I listed your Professional Experience. I began each bullet point with the strongest action verb possible, while also rewriting the text for maximum impact.

For example, you wrote:

"Directly involved in setting up financing for turnkey manufacturing and implementing new ways to track and improve profitability."

I rewrote this to read:

"Secured financing for turnkey manufacturing; implemented new methods to track and improve profitability."

In another example, you wrote:

"Conducted extensive audits at subcontract locations for both schedule and contract performance. Critical member of negotiating team on new contract due diligence activities."

I rewrote this into two bullets to read:

"Performed comprehensive schedule & contract performance audits at all subcontract locations."

"Functioned as point person for new contract due diligence activities as part of the negotiating team."

You'll notice that I separated your teaching experience at Georgetown University from the Professional Experience section. There are two reasons for this. One, a resume should be in reverse chronological order -- because of this, it would have been necessary to place the teaching experience directly beneath the Electronics Edge, Inc., job with that breaking the flow of your CFO / Director positions.
Secondly, it's your only teaching position, therefore, it fits better in a section by itself. It doesn't break the flow of your other financial / management experience, and it stands outs because of this placement.

I ended your resume with the education section, rather than beginning with it as you had. Being a seasoned professional (and not a new graduate), a hiring manager is more interested in your performance than your educational achievements. This is especially true as your Master's was awarded in 1987.

The only information I left out were the references to graduating at the top 10% of your class, putting yourself through school, and your A.A.S. degree. Because you're a seasoned professional, it's unnecessary to add the top 10% data or that you put yourself through school.
A hiring manager can easily see your dedication and experience in the first paragraph of this resume. Additionally, in the industry, only Bachelor or Master's degrees are listed. As a rule, hiring managers aren't interested in every school you attended, just that you did get that Bachelor's.
All decisions to modify or exclude data were in keeping with the guidelines and standards set forth by the Professional Association of Resume Writers (PARW).

With this resume, you now have a powerful tool that's well-organized and aesthetically pleasing.

It was a pleasure serving you, Paul. Good luck in all your future endeavors.

CyberEdit Editor
Certified Professional Resume Writer (CPRW).
Free Online Resume Builder Tool: Use this tool to build a high quality resume in about ten minutes.
Top Resume Builder
Over 180 easy-to-use proven resume and cover letter
templates and examples that guarantee job offers in 30 days.
TopResumeBuilder.com

Create Your Resume In 9 1/2 Minutes With the FREE "Top Resume Builder"!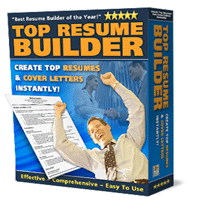 Struggling to write your resume? Worried about getting job offers? Get the FREE Top Resume Builder ($97 value) now!
Save hours writing your resume.
Save hundreds of dollars hiring a professional writer.
Over 35 proven resume templates created by a resume expert.
No software to install. All templates are in Microsoft Word format.
Immediate download so that you can start right away.
Hurry! We are offering the Top Resume Builder for . After that date, we're selling it for $49.97. So get it free now before it's too late!
Just subscribe to our free Top Career Newsletter by submitting your name and email below. And we'll send you the Top Resume Builder right away.
Note: The Top Resume Builder will be emailed to you. So please submit your actual email.
Privacy Policy: Your email address is Private and Confidential and will NOT be rented or sold to any party. You can unsubscribe at anytime. We hate spam as much as you do!
Click Here For More Sample Accounting Resume Tips.