Sales Resume Example
Here's A Sales Resume Critique:

Dear Tom,

Given your solid background in managerial, sales, and administration positions, your choice of style #7 worked well for this resume. This format really allows your various skills in different areas to shine through, making you more attractive to an employer who seeks a manager who can multitask with ease.

The resume opens with your name in a large size and stylized font, drawing attention to it immediately. That is followed by your contact information in bold print in order to make this data easily accessible.
Free Online Resume Builder Tool: Use this tool to build a high quality resume in about ten minutes.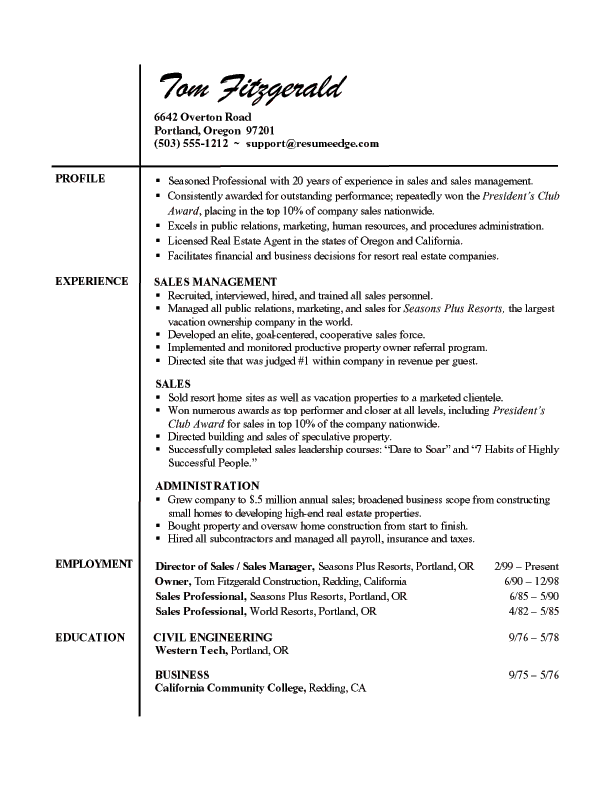 Sales Resume Tip:
In the "profile" section of the resume, I condensed a great deal of the information you supplied regarding your awards and achievements as a sales person and manager, as well as your most outstanding skills. This bulleted list makes those skills and achievements easy to locate and immediately presents a kind of "snapshot" of you as a versatile sales professional.

You listed your skills and achievements in the following manner:

"1. 20 years experience in real estate sales. Current title is Director of Sales with 1 year experience.

2. 2 years prior experience as Sales Manager and 17 years as a sales person.

3. Top performer in all 3 levels, numerous winner of Presidents Club (top 10% of the company nation wide. Recognized numerous times.

4. Highly Motivated, dependable, self starter, top closer."

I concluded, from that and other information you supplied, a more concise list:

§ Seasoned Professional with 20 years of experience in sales and sales management.

§ Consistently awarded for outstanding performance; repeatedly won the President's Club Award, placing in the top 10% of company sales nationwide.

§ Excels in public relations, marketing, human resources, and procedures administration.

§ Licensed Real Estate Agent in the states of Oregon and California.

§ Facilitates financial and business decisions for resort real estate companies.

Sales Resume Tip:
In the body of the resume, I began by listing your sales management skills and experience, since this is clearly the field in which you seek work.

I was impressed with the strength of your statement regarding your managerial position with Seasons Plus Resorts:

" . . . #1 site within the company in revenue per guest. This is due to hiring and training a successful team that works cooperatively together and staying focused on our goals."

I was able to separate this information into two parts for greater emphasis, presenting each item as part of the easy to read bulleted list.

· Developed an elite, goal-centered, cooperative sales force.

· Directed site that was judged #1 within company in revenue per guest.

Sales Resume Tip:
Under the heading "Sales" I characterized you as a skilled real estate sales person by noting such accomplishments as your awards won--

§ Won numerous awards as top performer and closer at all levels, including President's Club

Award for sales in top 10% of the company nationwide.

--and the somewhat different type of sales work you did with Fitzgerald Construction,

· Directed building and sales of speculative property.

I also included your participation in the sales leadership courses here, as this information highlights your "self starter" quality.

The accomplishments and skills I listed under "Administrator" deal primarily with your responsibilities as owner of Fitzgerald Construction.

I reworded your phrase:

"When I started we were building small inexpensive homes and as the business and profits grew this expanded to larger and more expensive homes."

To read:

· Grew company to $.5 million annual sales; broadened business scope from constructing small homes to developing high-end real estate properties.

The new phrasing serves to emphasize the company's growth under your direction and ownership.

Sales Resume Tip:
It would be of interest to an employer to know what the company grew from. If, for instance, you bought the company, or started the company, with just yourself as an employee, earning $15,000 a year and built it up from that, you may want to expand this bulleted point a bit to add that information and provide contrast.

Under the education section I listed the degrees you pursued and the colleges attended. You did not mention if a degree was earned at either college. If a degree was earned, please go ahead and note that by inserting the degree, such as "Bachelor of Science" before the concentration, such as "Civil Engineering."

Your resume is presented in Word format so that you will be able to easily make any changes necessary.

All decisions to modify or exclude data were in keeping with the guidelines and standards set forth by the Professional Association of Resume Writers (PARW).

With this resume, you now have a powerful tool that's well-organized and aesthetically pleasing.

It was a pleasure serving you, Tom. Good luck in all your future endeavors.

ResumeEdge Editor
Certified Professional Resume Writer (CPRW)
Free Online Resume Builder Tool: Use this tool to build a high quality resume in about ten minutes.
Top Resume Builder
Over 180 easy-to-use proven resume and cover letter
templates and examples that guarantee job offers in 30 days.
TopResumeBuilder.com

Create Your Resume In 9 1/2 Minutes With the FREE "Top Resume Builder"!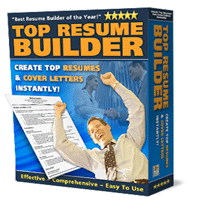 Struggling to write your resume? Worried about getting job offers? Get the FREE Top Resume Builder ($97 value) now!
Save hours writing your resume.
Save hundreds of dollars hiring a professional writer.
Over 35 proven resume templates created by a resume expert.
No software to install. All templates are in Microsoft Word format.
Immediate download so that you can start right away.
Hurry! We are offering the Top Resume Builder for . After that date, we're selling it for $49.97. So get it free now before it's too late!
Just subscribe to our free Top Career Newsletter by submitting your name and email below. And we'll send you the Top Resume Builder right away.
Note: The Top Resume Builder will be emailed to you. So please submit your actual email.
Privacy Policy: Your email address is Private and Confidential and will NOT be rented or sold to any party. You can unsubscribe at anytime. We hate spam as much as you do!
Click Here For More Sales Resume And Proven Resume Tips.