Top resume writing tip: The importance of achievements
Top Resume Writing Tip: One of the most common errors that job hunters make in their resume is listing all their job roles and responsibilities in their resume. To certain a extent, you may want to list your duties. But employers are more interested in what you can do for them, especially how you can increase profits and reduce costs.

To really impress employers, you have to focus on your accomplishments. What you have done at your present and previous companies that make you special. What you can do that other job hunters cannot.

So instead of just listing your job duties, include also your achievements in your present and previous jobs.

Free Online Resume Builder Tool: Use this tool to build a high quality resume in about ten minutes.

Examples of achievements include:
Increased sales

Reduced costs

Consistently met deadlines

Proposed and implemented ideas that improved processes

Helped attract and retain employees
Another Top Tip:
When you write your resume, use action verbs to describe your accomplishments and job duties. Action verbs add impact to your descriptions.
Final Top Resume Writing Tip for the day:
Use figures such as dollars and percentages in your achievements as far as possible. It helps differentiate your accomplishments from other candidates.
Hence, when you include your achievements in your resume and you'll be way ahead of the pack.
Free Online Resume Builder Tool: Use this tool to build a high quality resume in about ten minutes.
Top Resume Builder
Over 180 easy-to-use proven resume and cover letter
templates and examples that guarantee job offers in 30 days.
TopResumeBuilder.com

Create Your Resume In 9 1/2 Minutes With the FREE "Top Resume Builder"!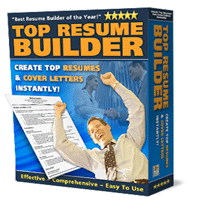 Struggling to write your resume? Worried about getting job offers? Get the FREE Top Resume Builder ($97 value) now!
Save hours writing your resume.
Save hundreds of dollars hiring a professional writer.
Over 35 proven resume templates created by a resume expert.
No software to install. All templates are in Microsoft Word format.
Immediate download so that you can start right away.
Hurry! We are offering the Top Resume Builder for . After that date, we're selling it for $49.97. So get it free now before it's too late!
Just subscribe to our free Top Career Newsletter by submitting your name and email below. And we'll send you the Top Resume Builder right away.
Note: The Top Resume Builder will be emailed to you. So please submit your actual email.
Privacy Policy: Your email address is Private and Confidential and will NOT be rented or sold to any party. You can unsubscribe at anytime. We hate spam as much as you do!
Click Here For More Resume Writing Tips And Proven Resume Tips.