Top Resume Writing Tip: Keep your resume short and sweet
Resume writing tip: "How many pages should my resume be?"

This is one of the most common questions among job hunters. In my experience as a career consultant, I've seen resumes with as many as twelve pages.

Free Online Resume Builder Tool: Use this tool to build a high quality resume in about ten minutes.

Top Resume Writing Tip:

On average, resumes should not go beyond three pages. I've always believed that job hunters should focus on quality, NOT quantity. If two pages of a well-written and attractively designed resume can't get you an interview, a hundred pages of endless job duties, work history and educational qualifications won't make a difference.

Here are a few rules of thumbs:
For a new graduate or an entry-level candidate, one page should be sufficient.

For mid-level professionals, two pages should do the job.

For senior managers and executives, their resumes can be as many as three pages. But no more than that.
For the record, having two to three pages is not a hard and fast rule. There is no rule that says that you can't go beyond three pages. However, please bear this in mind.

Another resume writing tip: Put yourself in the employer's shoes. If you have a hundred applicants and each with resumes that are six pages long, would you actually sit through and read all of them?

Remember, employers are not in the business of interviewing job applicants. They have a business to run and sifting through hundreds of pages of resumes is a time-wasting activity to them.

Hence, most will just read the first few pages of each resume and that's it. If you can't impress him or her in those first few pages, another six pages aren't going to do it.

So the top resume writing tip is to keep your resume short and simple. Have all your most important information on the first page itself, namely your career objective or profile, and most importantly your achievements.

If you are having problems formatting your resume into two or three pages, there are professionally designed resume templates available that can help you do that and at the same time, help you focus on quality and not quantity.

Free Online Resume Builder Tool: Use this tool to build a high quality resume in about ten minutes.
Top Resume Builder
Over 180 easy-to-use proven resume and cover letter
templates and examples that guarantee job offers in 30 days.
TopResumeBuilder.com

Create Your Resume In 9 1/2 Minutes With the FREE "Top Resume Builder"!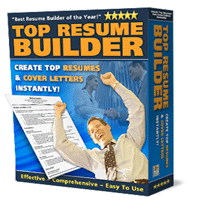 Struggling to write your resume? Worried about getting job offers? Get the FREE Top Resume Builder ($97 value) now!
Save hours writing your resume.
Save hundreds of dollars hiring a professional writer.
Over 35 proven resume templates created by a resume expert.
No software to install. All templates are in Microsoft Word format.
Immediate download so that you can start right away.
Hurry! We are offering the Top Resume Builder for . After that date, we're selling it for $49.97. So get it free now before it's too late!
Just subscribe to our free Top Career Newsletter by submitting your name and email below. And we'll send you the Top Resume Builder right away.
Note: The Top Resume Builder will be emailed to you. So please submit your actual email.
Privacy Policy: Your email address is Private and Confidential and will NOT be rented or sold to any party. You can unsubscribe at anytime. We hate spam as much as you do!
Click Here For More Resume Writing Tip And Proven Resume Tips.