Resume writing sample
Here's A Critique of a Resume writing sample:


Dear Therese ~


As requested, I used Design #6 for your resume and slanted it towards employment in the Administrative / Clerical / Secretarial field.


In your email, you describe yourself as a hard worker; therefore I wrote that you are "diligent," adding that you are also detail-oriented (a must for any administrative support position). To ensure that you would be able to use this resume in a wide range of industries, while also emphasizing your healthcare experience, I wrote "…Administrative Assistant knowledgeable of all office functions, with a solid background in the healthcare field." That covers all bases.
The use of the title "Administrative Assistant," rather than "Clerical Worker" or "Secretary," was also deliberate as Administrative Assistants earn far more than either of the other categories.
Free Online Resume Builder Tool: Use this tool to build a high quality resume in about ten minutes.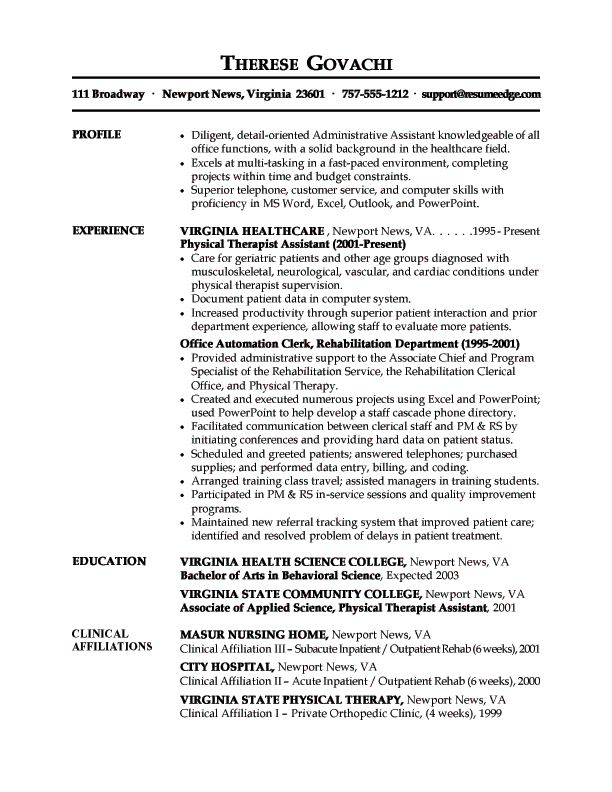 Resume writing sample critique (continued)
In your email I noticed that you wrote "Virginia Healthcare," for both your jobs. Even though your last position was different than your first position, the employer is the same, therefore I listed the name only once (combining your years there as 1995-Present), then listed your job duties followed by the dates of that employment.


In this section, I also began each bullet point with the strongest action verb possible, while also revising text for clarity, conciseness, and maximum impact.


For example, in the information you submitted for this writing order, you wrote:


"Maintains and manages a new tracking system that was implemented to better organize the distribution of referrals to and from various medical Clinics. This improved quality and efficiency of patient care. Resolved a major problem of lapsed time for patients to be treated. I identified the problem and took preventive action, with permission of my managers, using my own intuition and creativity."


I revised and condensed that to read:


"Maintained new referral tracking system that improved patient care; identified and resolved problem of delays in patient treatment."


The sentence is now better organized and to the point, much like your work with NY Harbor.


Resume writing sample critique:
In another example, you wrote:


"Maintains effective oral and written communication by engaging in conferences with PM&RS staff to keep them informed of the status of patients and distributes printouts from the computer. By starting this team meeting with the clerical staff it help mend the communication problem between therapist / doctors and clerical staff. It opened the door to increase friendliness between staff members."

I revised that to read:


"Facilitated communication between clerical staff and PM & RS by initiating conferences and providing hard data on patient status."

Again, the sentence is now well organized and showcases your leadership capabilities ("Facilitated communication between…by initiating conferences…")

Next, is your education section - here I did write "Expected 2003" for your BA in Behavioral Sciences.

In the Clinical Affiliations section, I listed your information in reverse chronological order. This maintains continuity with the rest of the resume that is also presented in that manner.

Because you're applying for an administrative support position, I did not include your certification in CPR as it adds little to your other qualifications. I also excluded your volunteer work due to space considerations and relevancy. Again, it adds little to your qualifications for an administrative support position.

All decisions to modify or exclude data were in keeping with the guidelines and standards set forth by the Professional Association of Resume Writers (PARW).

With this resume, you now have a powerful tool that's well organized and filled with pertinent data, while also being aesthetically pleasing.

It was a pleasure serving you, Therese. Best of luck in all your future endeavors.

ResumeEdge Editor
Certified Professional Resume Writer (CPRW)
Free Online Resume Builder Tool: Use this tool to build a high quality resume in about ten minutes.
Top Resume Builder
Over 180 easy-to-use proven resume and cover letter
templates and examples that guarantee job offers in 30 days.
TopResumeBuilder.com

Create Your Resume In 9 1/2 Minutes With the FREE "Top Resume Builder"!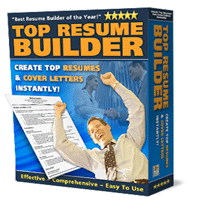 Struggling to write your resume? Worried about getting job offers? Get the FREE Top Resume Builder ($97 value) now!
Save hours writing your resume.
Save hundreds of dollars hiring a professional writer.
Over 35 proven resume templates created by a resume expert.
No software to install. All templates are in Microsoft Word format.
Immediate download so that you can start right away.
Hurry! We are offering the Top Resume Builder for . After that date, we're selling it for $49.97. So get it free now before it's too late!
Just subscribe to our free Top Career Newsletter by submitting your name and email below. And we'll send you the Top Resume Builder right away.
Note: The Top Resume Builder will be emailed to you. So please submit your actual email.
Privacy Policy: Your email address is Private and Confidential and will NOT be rented or sold to any party. You can unsubscribe at anytime. We hate spam as much as you do!
Click Here For More Resume Writing Sample and Tips.