Top Resume Tip: Never reveal your salary. Ever.
Here's a resume tip: As you scour the papers and internet for job vacancies, you'll notice that many employers request that you include your expected and present salary in your resume. So this raises two questions:

Firstly, why do they need your present salary?

Companies normally ask for applicants' salary for two reasons. Firstly, the salary is used to filter out candidates that they deem as 'too expensive.'

Secondly, when the company has knowledge of your salary, they have an advantage in salary negotiations later in the interview.

Free Online Resume Builder Tool: Use this tool to build a high quality resume in about ten minutes.

This brings us to the next question: Should you reveal your current salary?

Although some resume templates and examples include a section on salary, you should never include your current salary in your resume. By excluding your salary, the employer has no choice but to review your application based on your qualifications.

And during the interview, they won't have the unfair advantage in salary negotiations.

But some jobseekers insist that they include their current salary in their resumes because they are worried that they may not be called for an interview if they don't.

So here's another Tip:

State in your cover letter that your expected salary is negotiable. By stating that your salary is negotiable, you still fulfill the employer's request for an expected salary without revealing your current salary.

Final Tip:

If you're still uncomfortable, you can include an expected salary range. Whichever path you choose, revealing your present salary definitely puts you at a disadvantage.

Follow this Top Resume Tip and you'll be in a better position in negotiating your salary during interviews.

Free Online Resume Builder Tool: Use this tool to build a high quality resume in about ten minutes.
Top Resume Builder
Over 180 easy-to-use proven resume and cover letter
templates and examples that guarantee job offers in 30 days.
TopResumeBuilder.com

Create Your Resume In 9 1/2 Minutes With the FREE "Top Resume Builder"!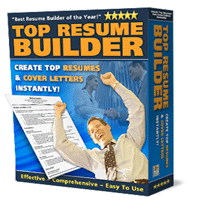 Struggling to write your resume? Worried about getting job offers? Get the FREE Top Resume Builder ($97 value) now!
Save hours writing your resume.
Save hundreds of dollars hiring a professional writer.
Over 35 proven resume templates created by a resume expert.
No software to install. All templates are in Microsoft Word format.
Immediate download so that you can start right away.
Hurry! We are offering the Top Resume Builder for . After that date, we're selling it for $49.97. So get it free now before it's too late!
Just subscribe to our free Top Career Newsletter by submitting your name and email below. And we'll send you the Top Resume Builder right away.
Note: The Top Resume Builder will be emailed to you. So please submit your actual email.
Privacy Policy: Your email address is Private and Confidential and will NOT be rented or sold to any party. You can unsubscribe at anytime. We hate spam as much as you do!
Click Here For More Resume Tip And Proven Resume Tips.