Resume Style For Medical School Applicant
Here's Comments on Resume style:


Dear Adam ~


Thank you for submitting so much information by email and phone.


For your resume, I chose a "Traditional" format to best display your skills. This format employs the Times New Roman font resulting in a document that is elegant and uncluttered with plenty of white space.


While most med school resumes are one-page, I created yours at two because of your extensive and varied skills. I believe each of your jobs will impress an admissions director, as they are indicative of your dedication and determination.
Free Online Resume Builder Tool: Use this tool to build a high quality resume in about ten minutes.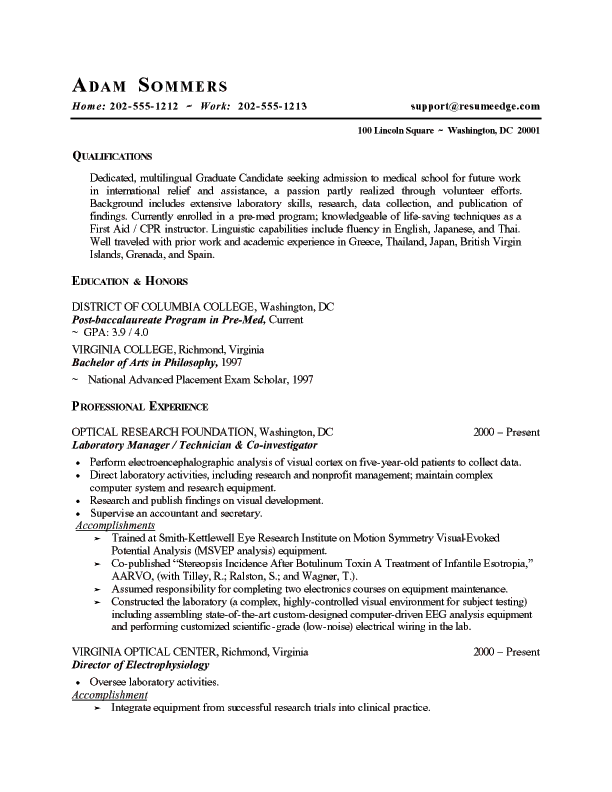 Resume Style Critique (continued)
To begin the resume, I wrote a Qualifications section that briefly summarizes and emphasizes those areas in your present and past that I felt would most interest an admissions director. I began by calling you a "Graduate Candidate," then went on to state your interest in medical school "…for future work in international and relief assistance, a passion partly realized through volunteer efforts."
Next, I brought in your lab skills, research, data collection, and the like, and then stated that you are currently enrolled in a pre-med program. For the next skill set, I chose to emphasize your linguistic capabilities that include "…fluency in English, Japanese, and Thai." If you have further language skills, I could add those to this section. I ended this paragraph by writing of your travels abroad.


For the next section, I listed your Education, but did leave out your explanation about working toward a BS in Biology. I felt that would be better stated in a cover letter, rather than a resume. I also excluded "The Colorado School," information you provided as US resumes don't generally list high school


The "Professional Experience" section is next. Here, I separated your duties from your accomplishments, making certain that each job listing had at least one accomplishment. This provides consistency to the document. In some of your explanations on ResumeRite, you were a bit too thorough, which of course is a good thing for the purposes of ResumeRite.
Resume style critique:
For example, you wrote:

"Collect data (young subjects - 5 years old - come in with parents for electroencephalographic analysis of visual cortex…procedures takes 1 hr and involves technical and personal skill with young subject and parents)."

I revised that to read:

"Perform electroencephalographic analysis of visual cortex on five-year-old patients to collect data." (I included only that data I felt an admissions director would need to know).

In another example, you wrote:

"Produced THE prototype for a GPS-managed digital travel guide."

I revised that to read:

"Produced prototype for a GPS-managed digital travel guide that has become the industry standard."

I ended your resume with the "Volunteer Activities" section that ties in what was written in the Qualifications section.

All decisions to modify or exclude data were in keeping with the guidelines and standards set forth by the Professional Association of Resume Writers (PARW).

With this resume, you now have a powerful tool that's well organized and filled with pertinent data, while also being aesthetically pleasing.

It was a pleasure serving you, Adam.

Best of luck in all your future endeavors.

ResumeEdge Editor
Certified Professional Resume Writer (CPRW)
Free Online Resume Builder Tool: Use this tool to build a high quality resume in about ten minutes.
Top Resume Builder
Over 180 easy-to-use proven resume and cover letter
templates and examples that guarantee job offers in 30 days.
TopResumeBuilder.com

Create Your Resume In 9 1/2 Minutes With the FREE "Top Resume Builder"!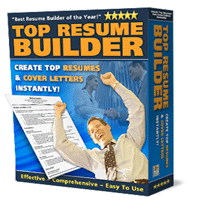 Struggling to write your resume? Worried about getting job offers? Get the FREE Top Resume Builder ($97 value) now!
Save hours writing your resume.
Save hundreds of dollars hiring a professional writer.
Over 35 proven resume templates created by a resume expert.
No software to install. All templates are in Microsoft Word format.
Immediate download so that you can start right away.
Hurry! We are offering the Top Resume Builder for . After that date, we're selling it for $49.97. So get it free now before it's too late!
Just subscribe to our free Top Career Newsletter by submitting your name and email below. And we'll send you the Top Resume Builder right away.
Note: The Top Resume Builder will be emailed to you. So please submit your actual email.
Privacy Policy: Your email address is Private and Confidential and will NOT be rented or sold to any party. You can unsubscribe at anytime. We hate spam as much as you do!
Click Here For More Resume Style and Tips.