Resume Objective: How to avoid 'me too' career objectives
One of the most important sections of your resume is the resume objective. This section allows you to sum up in one or two sentence what makes you different from your competitors.

Unfortunately, most job hunters write bland objectives that scream 'me too.' The most common and cliché resume objective is the:

'Looking for a challenging environment where I can use my skills.'

This is a vague and ambiguous objective that will confuse employers and hence, reduce your chances for an interview.

Free Online Resume Builder Tool: Use this tool to build a high quality resume in about ten minutes.

Another common mistake is sending a resume with a one-size-fits-all objective. It will not work because employers look for candidates who are focused on fulfilling the employers' needs.

Top Resume Tip:

So you have to write a resume objective that talks about what YOU can do for the employer. It's NOT about your needs as an employee. You are marketing yourself. Thus, tell the employer that you have the skills and experience to solve his problems.

Every company has only one objective and that's to make money. To achieve that, they have to increase sales and reduce costs. So tell them that you can help them accomplish their goals.

For instance:

Highly dedicated Secretary with over 10 years experience in manufacturing industry to increase operational efficiency and reduce office costs.

In just one sentence, you have provided FIVE selling points:

1) Highly dedicated: Two simple but important words that sell yourself as more than just another secretary.

2) 10 years experience: Shows that you have extensive professional experience.

3) Manufacturing industry: You have relevant experience which is always a big plus.

4) Increase operational efficiency: You are telling the employer that you can save time and improve his/her operations.

5) Reduce office costs: Every employer loves to hear from an employee who can reduce expenditure.

Hence, with a customized resume objective that speaks to employers' needs, you will have an edge over many job hunters.
Top Resume Builder
Over 180 easy-to-use proven resume and cover letter
templates and examples that guarantee job offers in 30 days.
TopResumeBuilder.com

Create Your Resume In 9 1/2 Minutes With the FREE "Top Resume Builder"!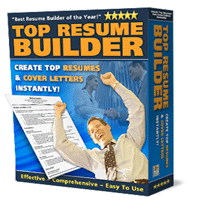 Struggling to write your resume? Worried about getting job offers? Get the FREE Top Resume Builder ($97 value) now!
Save hours writing your resume.
Save hundreds of dollars hiring a professional writer.
Over 35 proven resume templates created by a resume expert.
No software to install. All templates are in Microsoft Word format.
Immediate download so that you can start right away.
Hurry! We are offering the Top Resume Builder for . After that date, we're selling it for $49.97. So get it free now before it's too late!
Just subscribe to our free Top Career Newsletter by submitting your name and email below. And we'll send you the Top Resume Builder right away.
Note: The Top Resume Builder will be emailed to you. So please submit your actual email.
Privacy Policy: Your email address is Private and Confidential and will NOT be rented or sold to any party. You can unsubscribe at anytime. We hate spam as much as you do!
Click Here For More Resume Objective And Proven Resume Tips.