Resume Objective Example
Here's A Critique of a resume objective example:


Dear Katherine ~


After careful study of your career objective and past experience, I chose a "Professional" format to best display your skills. This format is the one most chosen by business professionals, such as you. Employing the Times New Roman font, the resulting document is elegant and uncluttered with plenty of white space.


I began your resume by centering and bolding your name, then increasing its size so it would stand out from the rest of the text. I then separated your work and home phone numbers at the left and right margins respectively. This arrangement provides easy access and readability.
Free Online Resume Builder Tool: Use this tool to build a high quality resume in about ten minutes.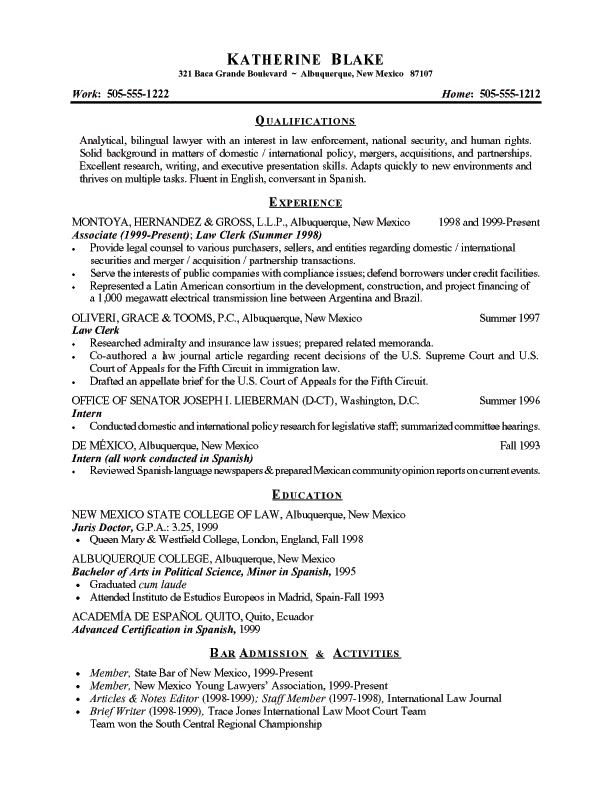 Resume objective example critique (continued):
In the body of the resume I decided to summarize and emphasize your skills through a qualifications section. I highlighted your analytical & multi-lingual capabilities and your solid business law experience while also expressing your desire to move into new areas (i.e. - law enforcement, national security and human rights). I then chose those skills from your resume that support your desire to use your legal skills in domestic and international areas.


Unlike your old resume, I chose to present your professional experience before your education. You have accomplished a lot in your years since college. It is now time to let your experience speak first for you instead of your degree.


In your experience section, I began each bullet point with the strongest action verb possible while also rewriting some of the text for clarity and conciseness.


For example, you wrote in a paragraph style:


"…represented various purchasers and sellers in domestic and international securities and merger and acquisition transactions, and entities in partnership transactions; represent public companies in compliance work; represent borrowers under credit facilities."


I rewrote that to read in two bullets:


"Provide legal counsel to various purchasers, sellers and entities regarding domestic / international securities and merger / acquisition / partnership transactions.


Serve the interests of public companies with compliance issues; defend borrowers under credit facilities."


Resume objective example critique:
In another example, you wrote:


"Assisted legislative staff with domestic and international policy research..."


I rewrote that to read:


"Conducted domestic and international policy research for legislative staff; summarized committee hearings."


Next I listed your education.

Finally I listed your bar admission, activities, and honors. I could have left your activities and honors under education, but space was limited and I felt these items were best suited to their own section since there were so many.

All decisions to modify or exclude data were in keeping with the guidelines and standards set forth by the Professional Association of Resume Writers (PARW).

With this resume, you now have a powerful tool that's well-organized and filled with pertinent data, while also being aesthetically pleasing.

It was a pleasure serving you, Katherine.

Good luck in all your future endeavors.

ResumeEdge Editor
Certified Professional Resume Writer (CPRW)
Free Online Resume Builder Tool: Use this tool to build a high quality resume in about ten minutes.
Top Resume Builder
Over 180 easy-to-use proven resume and cover letter
templates and examples that guarantee job offers in 30 days.
TopResumeBuilder.com

Create Your Resume In 9 1/2 Minutes With the FREE "Top Resume Builder"!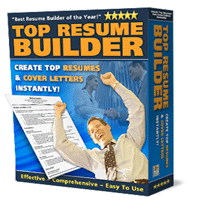 Struggling to write your resume? Worried about getting job offers? Get the FREE Top Resume Builder ($97 value) now!
Save hours writing your resume.
Save hundreds of dollars hiring a professional writer.
Over 35 proven resume templates created by a resume expert.
No software to install. All templates are in Microsoft Word format.
Immediate download so that you can start right away.
Hurry! We are offering the Top Resume Builder for . After that date, we're selling it for $49.97. So get it free now before it's too late!
Just subscribe to our free Top Career Newsletter by submitting your name and email below. And we'll send you the Top Resume Builder right away.
Note: The Top Resume Builder will be emailed to you. So please submit your actual email.
Privacy Policy: Your email address is Private and Confidential and will NOT be rented or sold to any party. You can unsubscribe at anytime. We hate spam as much as you do!
Click Here For More Resume Objective Example and Tips.