Resume Format Example
Here's Critique a Resume Format:


Dear Thomas,


For your resume, I used a "traditional" format that's elegant and uncluttered and uses the Times New Roman font.


I centered and bolded your name, making it slightly larger than the rest of the text so that it would stand out. I also made your contact information slightly larger than your address, then placed the phone number flush left and the email flush right so that a hiring manager could easily locate this data.
Free Online Resume Builder Tool: Use this tool to build a high quality resume in about ten minutes.
Because of your recent graduate status, I organized the material in this manner:


I began with a "Summary of Qualifications" in which I stated that you were recently awarded a Master of Science in Aerospace Engineering. I then included the information about your teaching classical thermodynamics and researching the development of a low NOx combustor, as your Master's thesis mentioned that subject. I ended the paragraph by saying you have solid mathematical, finance, and computer capabilities.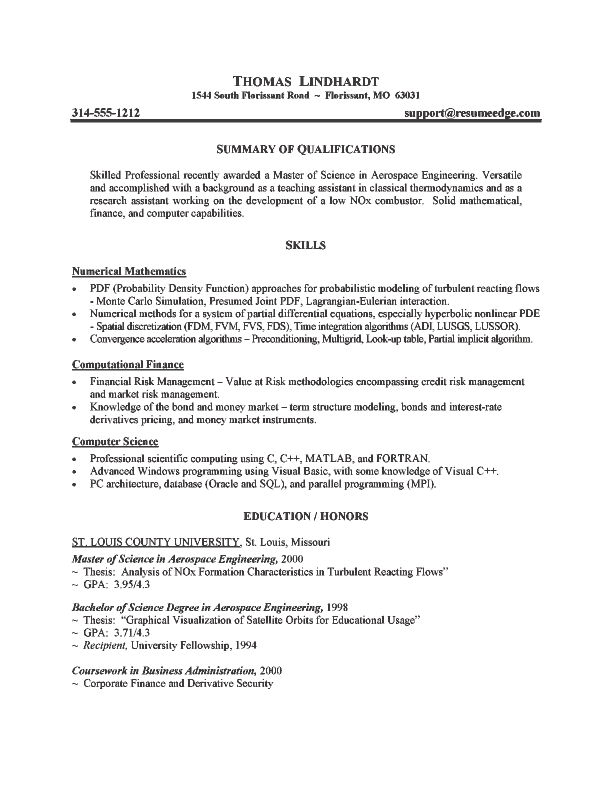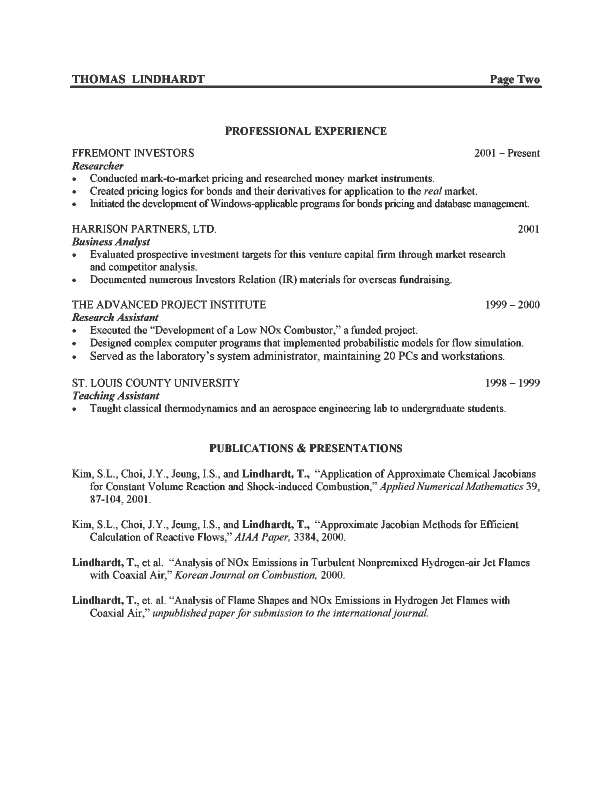 Critique a Resume Format (continued)
For the next section, I chose your skill sets - Numerical Mathematics, Computational Finance, and Computer Science as these are quite impressive and are relevant to your aerospace engineering goal.


Next, I grouped your education and honors under a separate section. Because you were awarded both an MS and a BA from St. Louis County University (besides taking noncredit courses there), I underscored the University's name, then listed all of your academics beneath it so as to avoid the redundancy of repeating the school's name over and over. I also listed the fellowship award you received from the University in that section.


On the second page of the resume, I listed your professional experience.


I rewrote several of the bullets to make them more concise and to increase their impact. For example, you wrote:

"Developed bonds and their derivatives pricing logics for an application to the "real" market."

I rewrote this to read:

"Created pricing logics for bonds and their derivatives for application to the real market."

In another example, you wrote:

"Developed massive computer programs implementing probabilistic models for flow simulation."

I rewrote that to read:

"Designed complex computer programs that implemented probabilistic models for flow simulation."

Resume Format Critique
In the last section of your resume, I listed your publications and presentations using the accepted format that bolds your name to highlight your achievement.

The only thing I deleted from your old resume was your interest in globalization, patent law, and your sports. Because resumes should only contain data relevant to your job search, the other material is best left for an interview. It's an effective way to "break the ice" with the hiring manager.

All modifications and deletions were in keeping with the standards and guidelines of the Professional Association of Resume Writers.

With this resume, you now have a powerful tool to use in your job search.

Good luck, Thomas. It was a pleasure serving you.

CyberEdit Editor
Certified Professional Resume Writer (CPRW)
Free Online Resume Builder Tool: Use this tool to build a high quality resume in about ten minutes.
Top Resume Builder
Over 180 easy-to-use proven resume and cover letter
templates and examples that guarantee job offers in 30 days.
TopResumeBuilder.com

Create Your Resume In 9 1/2 Minutes With the FREE "Top Resume Builder"!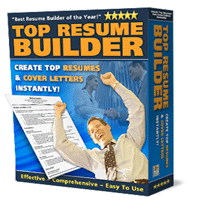 Struggling to write your resume? Worried about getting job offers? Get the FREE Top Resume Builder ($97 value) now!
Save hours writing your resume.
Save hundreds of dollars hiring a professional writer.
Over 35 proven resume templates created by a resume expert.
No software to install. All templates are in Microsoft Word format.
Immediate download so that you can start right away.
Hurry! We are offering the Top Resume Builder for . After that date, we're selling it for $49.97. So get it free now before it's too late!
Just subscribe to our free Top Career Newsletter by submitting your name and email below. And we'll send you the Top Resume Builder right away.
Note: The Top Resume Builder will be emailed to you. So please submit your actual email.
Privacy Policy: Your email address is Private and Confidential and will NOT be rented or sold to any party. You can unsubscribe at anytime. We hate spam as much as you do!
Click Here For More Proven Resume Format.