Resume Example
Here're Comments on A Resume Example:


Good morning, Janice,


Because your resume is being used for admission to a Graduate Program, I condensed your material from a two-page into a one-page document. A one-page resume is the industry standard.


After carefully studying your academic and professional background, I chose a "Student" resume to best display your qualifications to an admissions director. A student resume is used when one has superior academic achievements, but little to no work history.
Free Online Resume Builder Tool: Use this tool to build a high quality resume in about ten minutes.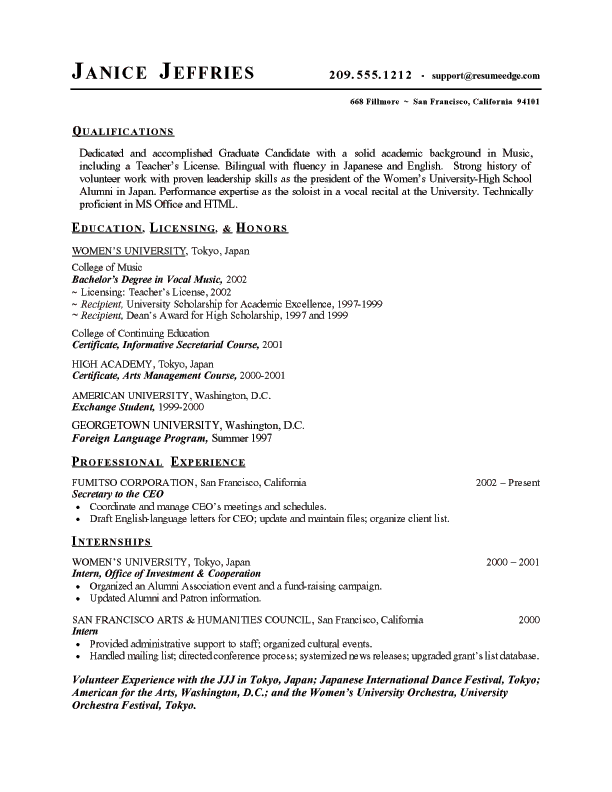 Resume Example Critique:
Given your music background, I further formatted your resume so that it would look elegant. To that end, I placed your name flush left, increasing its size until it stood out from the rest of the text.
I placed your most important contact information (phone number & email) above the line and your physical address below the line.


I began your resume with a brief "Qualifications" section in which I summarized and emphasized those qualifications I felt would most interest an admissions director. To begin, I wrote of you as a Graduate Candidate (since the resume is being used to secure admission to a graduate school), then wrote of your solid academic background in Music, including a Teacher's License (this expresses your dedication to academics).
Resume Example Critique:
I next wrote of your linguistic capabilities…"bilingual with fluency in Japanese and English." And then I wrote of your volunteer history and your proven leadership skills as the president of the Alumni for Women's University-High School Alumni. Please note: Due to space considerations, I was unable to add your membership in the Catholic Church choir. I felt its inclusion did not warrant the resume going to two pages.
Next, I made mention of your solo performance with the University. This gives an admissions director a good idea of your activities and musical expertise. I then ended this section with your computer skills.


With your outstanding academic record, I listed that section next (along with Licensing and Honors), organizing the data so that all of the courses you took at the Women's University are listed under that heading. Also, I put your schooling in reverse chronological order, which meant that the HIGH Academy listing comes after the Women's University College of Continuing Education, rather than Georgetown University as you had it.


Resume Example Critique:
Next, I listed your Professional Experience. Here, I began each bullet point with the strongest action verb possible, while also rewriting the text for clarity and conciseness.


For example, you wrote:


"Filed documents about CEO's work and reports from staff."


I revised that to read:

"Update and maintain files." (Because you're the CEO's secretary it's understood that it would be his files you maintain.)

Resume Example Critique:
For the next section, I chose to list your internships. These are far more informative for an admissions director, than your volunteer experience.


Again, due to space considerations, I was forced to condense your volunteer experience. After reading the bullet points in your old resume, I concluded that much of what you did as a volunteer was in an administrative assistant / secretarial capacity that does little to impress an admissions director. Better to condense this material than to risk the resume going to two pages.


All decisions to modify or exclude data were in keeping with the guidelines and standards set forth by the Professional Association of Resume Writers (PARW).

With this resume, you now have a powerful tool that's well organized and filled with pertinent data, while also being aesthetically pleasing.

It was a pleasure serving you, Janice.

Best of luck in all your future endeavors.

ResumeEdge Editor
Certified Professional Resume Writer (CPRW)
Free Online Resume Builder Tool: Use this tool to build a high quality resume in about ten minutes.
Top Resume Builder
Over 180 easy-to-use proven resume and cover letter
templates and examples that guarantee job offers in 30 days.
TopResumeBuilder.com

Create Your Resume In 9 1/2 Minutes With the FREE "Top Resume Builder"!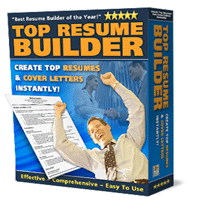 Struggling to write your resume? Worried about getting job offers? Get the FREE Top Resume Builder ($97 value) now!
Save hours writing your resume.
Save hundreds of dollars hiring a professional writer.
Over 35 proven resume templates created by a resume expert.
No software to install. All templates are in Microsoft Word format.
Immediate download so that you can start right away.
Hurry! We are offering the Top Resume Builder for . After that date, we're selling it for $49.97. So get it free now before it's too late!
Just subscribe to our free Top Career Newsletter by submitting your name and email below. And we'll send you the Top Resume Builder right away.
Note: The Top Resume Builder will be emailed to you. So please submit your actual email.
Privacy Policy: Your email address is Private and Confidential and will NOT be rented or sold to any party. You can unsubscribe at anytime. We hate spam as much as you do!
Click Here For More Resume Example And Proven Resume Tips.