Professional Resume
Here's a critique on a professional resume:


Dear Kenneth ~


Given your Professional status and the nature of your work as a Patent Attorney, I chose a "Professional" format to best present your skills. This format employs the Times New Roman font resulting in a document that's elegant and uncluttered with lots of white space.


I centered and bolded your name, then increased the font size so that it would stand out from the rest of the text. I separated your contact information, placing your phone number flush left and your email address flush right, so that this data could easily be found.
Free Online Resume Builder Tool: Use this tool to build a high quality resume in about ten minutes.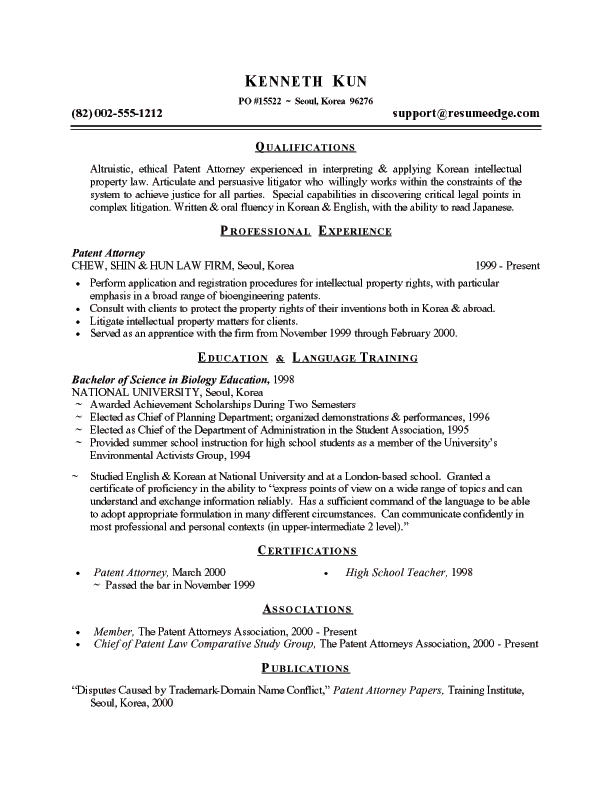 Professional resume critique (continued)
In the body of the resume, I began with a Qualifications section. This brief paragraph quickly presents your skills. In your email you said that you have a moral standard in interpreting and applying the law and that your attitude is to serve society. I wrote that you're altruistic, ethical, and experienced in interpreting & applying Korean intellectual property law.
I went on to write that you're articulate and persuasive and that you willingly work within the constraints of the system to achieve justice for all parties - an idea you wrote about in your personal statement. I added that you have special capabilities in discovering critical legal points in complex litigation, and then ended this paragraph by writing of your fluency in Korean and English.


Because you do have experience as a Patent Attorney, I chose to list that next, rather than your Education, given that your degree is in Biology Education. In each bullet of the Professional Experience section, I used the strongest action verb possible, while also rewriting the text for clarity and maximum impact.


For example, you wrote:


"Consulted clients who have ideas so that their inventions would be protected at home and abroad."


I rewrote that to read:


"Consult with clients in regards to protecting the property rights of their inventions both in Korea and abroad."

Professional resume critique:
The next section is "Education." Rather than separately listing your University-related activities, I placed them beneath your Bachelor's Degree information. In this manner, everything you did while at the University is listed in one section. It's better organized that way and makes for easier reading.


The next section is Certifications - your patent attorney and teacher data.

I then listed your Associations.

I ended your resume with a Publications section in which I list your article.

All decisions to modify data were in keeping with the guidelines and standards of the Professional Association of Resume Writers (PARW).

With this resume, you now have a powerful tool that's well organized and aesthetically pleasing.

It was a pleasure serving you, Kenneth.

Good luck in all your future endeavors.

ResumeEdge Editor
Certified Professional Resume Writer (CPRW)
Free Online Resume Builder Tool: Use this tool to build a high quality resume in about ten minutes.
Top Resume Builder
Over 180 easy-to-use proven resume and cover letter
templates and examples that guarantee job offers in 30 days.
TopResumeBuilder.com

Create Your Resume In 9 1/2 Minutes With the FREE "Top Resume Builder"!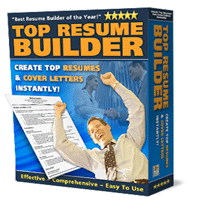 Struggling to write your resume? Worried about getting job offers? Get the FREE Top Resume Builder ($97 value) now!
Save hours writing your resume.
Save hundreds of dollars hiring a professional writer.
Over 35 proven resume templates created by a resume expert.
No software to install. All templates are in Microsoft Word format.
Immediate download so that you can start right away.
Hurry! We are offering the Top Resume Builder for . After that date, we're selling it for $49.97. So get it free now before it's too late!
Just subscribe to our free Top Career Newsletter by submitting your name and email below. And we'll send you the Top Resume Builder right away.
Note: The Top Resume Builder will be emailed to you. So please submit your actual email.
Privacy Policy: Your email address is Private and Confidential and will NOT be rented or sold to any party. You can unsubscribe at anytime. We hate spam as much as you do!
Click Here For More Professional Resume Tips.