Professional resume sample
Here's Critique of a professional resume sample:



Dear Christina,



Because your work history and accomplishments were so impressive, I chose an "executive-style" format for your resume. This format is elegant, uncluttered, and delivers your data with maximum impact.



Keeping the resume to one-page, an industry standard, I highlighted your name by putting it in a larger, bolded font. This sets it apart from the rest of the type. Your contact information (phone # and email) is in a slightly larger type than your address as hiring managers usually contact you by phone or email. Because you had four X's at the end of your fax number, I assumed it was the same as your work phone, which is why it's presented in that manner.

Free Online Resume Builder Tool: Use this tool to build a high quality resume in about ten minutes.

Professional resume sample critique

I began the body of your resume with a Qualifications section, emphasizing those points you requested - i.e. your product marketing and sales strategy. I also emphasized the awards you had won, your bilingual capabilities, the fact that you work in high grade nickel-plated steel, laminated steel, and in tin mill products.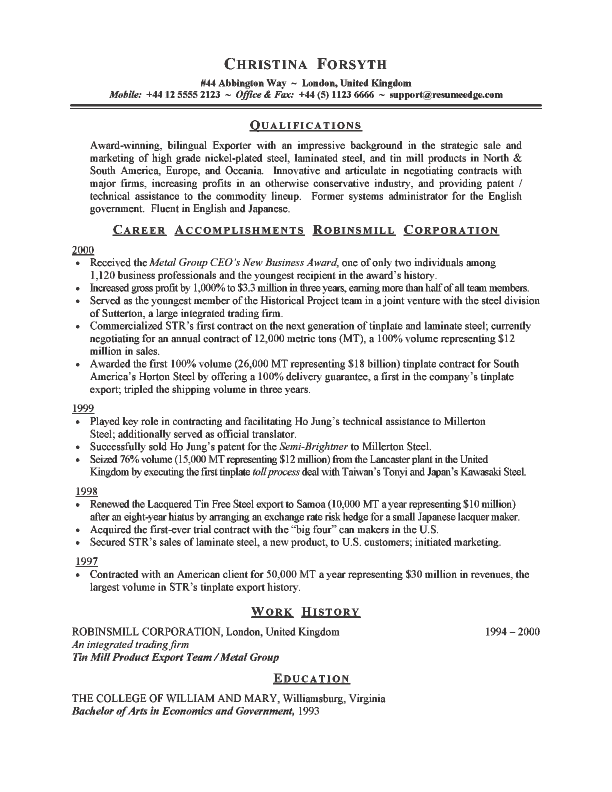 Critique of a Professional resume sample (continued)
You also indicated that you're good at communicating with people - I said that you were articulate. You said you were bold; I rewrote that to say you were innovative. You stated that the steel industry is conservative, yet you've made money in it. I stated that by saying, "…increasing profits in an otherwise conservative industry."


I thought your "traditional" and "spontaneous" activities were important enough to include in this opening paragraph. They will certainly be the first skills a hiring manager sees. I also included the systems administration you did for the English government as I feel this will add that extra "something" to your qualifications.

In the next section, I chose to highlight your Career Accomplishments at the Robbinsmill Corporation as you had. It was a wise choice on your part. And, I feel, the only choice on a resume writer's part - you simply have so many accomplishments that all of them deserve to be emphasized.

Professional resume sample critique
To begin each bullet, I used the strongest action verbs possible while also condensing and rewriting your text for maximum effect.

For example, you wrote:

"Contracted Ho Jung's "Technical Assistance" (TA) to Millerton Steel (USA). Facilitated the actual TA execution. Official translator as well. Total 23 days in Malvern, Pennsylvania. First time in heavy involvement in technical area for our team."

I rewrote this to read:

"Played key role in contracting and facilitating Ho Jung's technical assistance to Millerton Steel; additionally served as official translator."

This is far more concise and all that the hiring manager needs to know. Given your "key" role, your 23-day stay in Malvern is something you can bring up during an interview. Think of it as a way to "break the ice" and to explain your importance to that team.

In another bullet you wrote:

"Contracted the largest volume for STR's tinplate export history of 50,000 MT/year ($30 million) with American customer."

I rewrote this to read:

"Contracted with an American client for 50,000 MT a year representing $30 million in revenues, the largest volume in STR's tinplate export history."

Because of space considerations, I could not include your Karate Club membership or the other data you had listed under your educational experience section. Given your impressive work history, the material is actually unnecessary.

Also, because you received your degree from The College of William and Mary, I did not include your time at Greenville Community College. What's important is where you finally received your degree.

Professional resume sample critique
Every decision to modify and delete material was in keeping with the guidelines of the Professional Association of Resume Writers (PARW).

With this resume, you have a powerful tool that's not only packed with easily digestible material, but is also aesthetically pleasing.

It was a pleasure serving you, Christina. Best of luck in all your future endeavors.

CyberEdit Editor
Certified Professional Resume Writer (CPRW)
Free Online Resume Builder Tool: Use this tool to build a high quality resume in about ten minutes.
Top Resume Builder
Over 180 easy-to-use proven resume and cover letter
templates and examples that guarantee job offers in 30 days.
TopResumeBuilder.com

Create Your Resume In 9 1/2 Minutes With the FREE "Top Resume Builder"!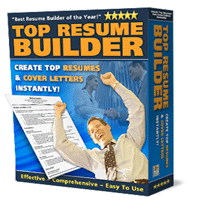 Struggling to write your resume? Worried about getting job offers? Get the FREE Top Resume Builder ($97 value) now!
Save hours writing your resume.
Save hundreds of dollars hiring a professional writer.
Over 35 proven resume templates created by a resume expert.
No software to install. All templates are in Microsoft Word format.
Immediate download so that you can start right away.
Hurry! We are offering the Top Resume Builder for . After that date, we're selling it for $49.97. So get it free now before it's too late!
Just subscribe to our free Top Career Newsletter by submitting your name and email below. And we'll send you the Top Resume Builder right away.
Note: The Top Resume Builder will be emailed to you. So please submit your actual email.
Privacy Policy: Your email address is Private and Confidential and will NOT be rented or sold to any party. You can unsubscribe at anytime. We hate spam as much as you do!
Click Here For More Professional Resume Sample.