Marketing Resume Template
Here's a critique of a marketing resume template:


Dear Ms. Lee,


In keeping with your stated purpose to use this resume to enter the public relations field, I chose a modern format which has elegance and flair. Because the eye moves naturally from the left to the right, I placed your contact information in the upper right corner, where it will be seen immediately following your name. This asymmetrical organization creates a dynamic visual tension which will make your resume stand out-a necessity when your resume is competing with hundreds of others.


The industry standard for someone with your level of experience is one page, which I adhered to.
Free Online Resume Builder Tool: Use this tool to build a high quality resume in about ten minutes.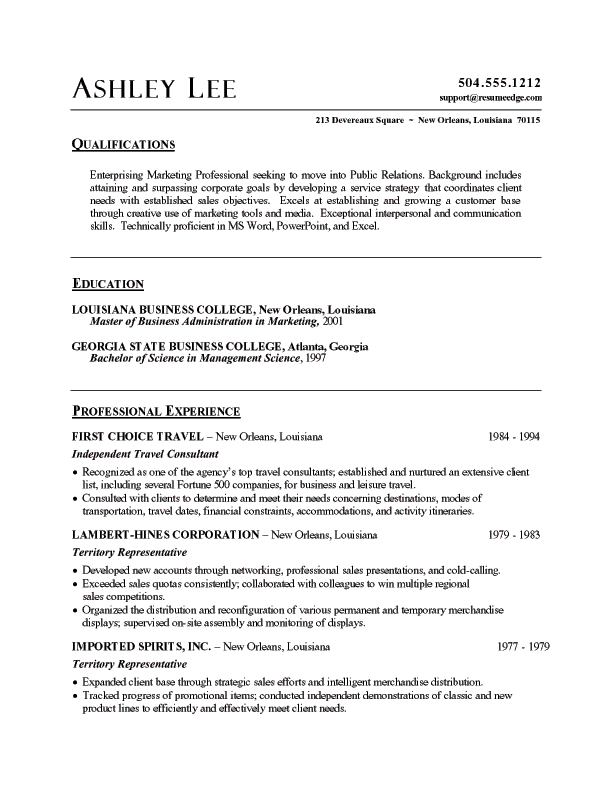 Marketing resume template critique:
You very intelligently began your resume with a bulleted list of your hard-won skills and qualifications. I merely condensed the list into a brief summary presented in paragraph form, highlighting your impressive marketing and sales competencies, as well as the interpersonal and communication skills which contributed to your success.


I decided against including your knowledge of the German language in this summary because I was unsure what you meant by "working knowledge." If your German is good enough that you would be able to develop and maintain a business relationship with a German-speaking client (speaking on the phone, writing e-mails, etc., all in German), then I would recommend including it. If not, best leave it out lest you mislead a potential employer into thinking that you are fluent.


You mentioned in your additional instructions to me that you were concerned about your unusual career path. Given that there are no real gaps in your history-only the fact that you advanced relatively far in the work world before returning to school to earn your B.S. and M.B.A.-I decided that a straightforward, reverse-chronological format was the best approach.
Marketing resume template critique:
Accordingly, I began with your most recent accomplishment (your M.B.A.), and worked backwards from there. Although your career accomplishments are impressive, placing them first might create confusion. Organizing the resume in this reverse-chronological format will forestall any questions that a hiring manager might have; every year is clearly accounted for.


You will note that I omitted your Associate's degree. Your much more recent educational credits (a B.S. and an M.B.A.) are more impressive and far more important from the perspective of a hiring manager. Including a degree in a relatively unrelated field which was earned more than 25 years ago would only distract attention from your more pertinent, timely, and impressive accomplishments.

Marketing resume template critique:
Next, I presented your professional experience. In presenting this information I reworded your bullet points for maximum impact.


For example, in one of your bullet points you wrote:


"Consistently exceeded sales quotas, in addition to collaborating with team colleagues to win multiple regional sales competitions."


I rewrote this point to read:


"Exceeded sales quotas consistently; collaborated with colleagues to win multiple regional sales competitions."


Notice how beginning the sentence with the strong verb "exceeded" as opposed to the adverb "consistently" enhances the vigor and impact of your claim. Also, using a semi-colon permits the omission of the filler transition "in addition to." These subtle changes add force and energy to your resume, giving your resume a psychological edge when competing for the attention of a hiring manager.


In another of your bullet points, you wrote:


"Consulted with corporate and leisure travel customers to determine destinations, modes of transportation, travel dates, financial considerations, accommodations, and corporate meeting planning."


I rewrote this point to read:


"Consulted with clients to determine and meet their needs concerning destinations, modes of transportation, travel dates, financial constraints, accommodations, and activity itineraries."


By emphasizing that your consulting work depended upon your willingness and ability to meet your clients' needs, you connect this experience to your claim (in the qualifications summary) that you can coordinate clients' needs with sales objectives, thus integrating it into the overall argument which your resume sets forth, namely, that you are the most qualified person for this job.


There is an avenue where your resume could still be improved. First, you mention that some of your travel consulting clients were Fortune 500 organizations. If any of these organizations are at all well-known, name them. Identifying important ex-clients whose names are likely to be recognized will add an extra gleam of prestige to your resume.

Each decision to highlight and condense data was in keeping with industry guidelines and standards set forth by the Professional Association of Resume Writers (PARW).

With your superior skills and this resume, I feel you have an excellent chance at reaching your stated goals. The best of luck.

ResumeEdge.com Editor
Certified Professional Resume Writer (CPRW).
Free Online Resume Builder Tool: Use this tool to build a high quality resume in about ten minutes.
Top Resume Builder
Over 180 easy-to-use proven resume and cover letter
templates and examples that guarantee job offers in 30 days.
TopResumeBuilder.com

Create Your Resume In 9 1/2 Minutes With the FREE "Top Resume Builder"!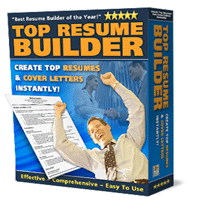 Struggling to write your resume? Worried about getting job offers? Get the FREE Top Resume Builder ($97 value) now!
Save hours writing your resume.
Save hundreds of dollars hiring a professional writer.
Over 35 proven resume templates created by a resume expert.
No software to install. All templates are in Microsoft Word format.
Immediate download so that you can start right away.
Hurry! We are offering the Top Resume Builder for . After that date, we're selling it for $49.97. So get it free now before it's too late!
Just subscribe to our free Top Career Newsletter by submitting your name and email below. And we'll send you the Top Resume Builder right away.
Note: The Top Resume Builder will be emailed to you. So please submit your actual email.
Privacy Policy: Your email address is Private and Confidential and will NOT be rented or sold to any party. You can unsubscribe at anytime. We hate spam as much as you do!
Click Here For More Marketing Resume Template And Proven Resume Tips.