Interior Designer Resume Example
Here's A Critique of An Interior Designer Resume:


Dear Sara:


What a delight it was to work on your resume. The pictures you provided were lovely, especially those of the set designs for The Templetons.


As you can see, I chose the #5 photo you provided, then scanned it for use as a background in your resume. At a glance, a hiring manager can now see your obvious skills.
Free Online Resume Builder Tool: Use this tool to build a high quality resume in about ten minutes.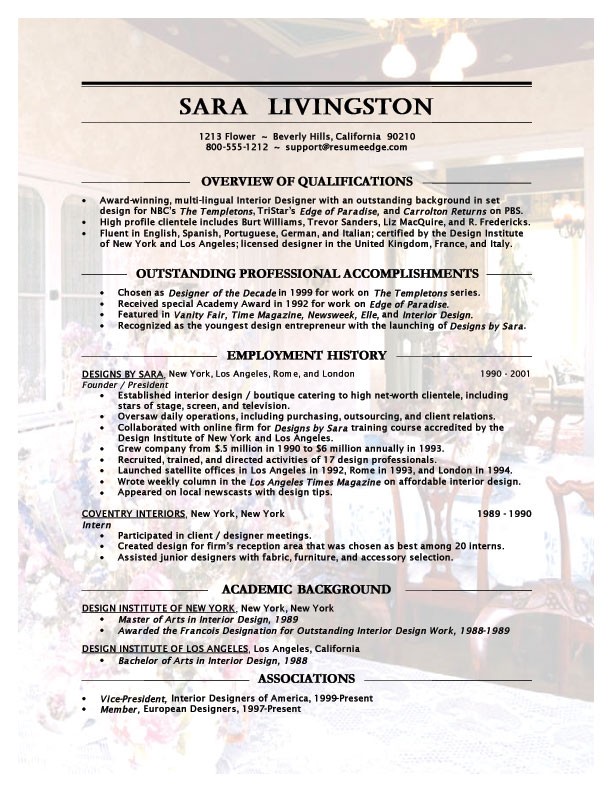 Interior Designer Resume Critique:
Because your work tends to be more formal and traditional (as opposed to stark or trendy), I chose template #5 to "float" over the scanned image. This design is traditional, while emphasizing your professional accomplishments, which speak for themselves.


In the body of the resume, I began with your qualifications, bulleting them for ease of reading. Here, I described you as award-winning and multilingual, then went on to write of your designs for NBC, TriStar, and PBS. Next, I listed certain of your high-profile clientele to show the status of your work, then ended this brief section with your linguistic capabilities and your international licensing.


For the section that follows, I emphasized your accomplishments. In today's world, hiring managers are especially busy and many only skim a resume. With this format, that includes a subheading listing your "Outstanding Professional Accomplishments," a hiring manager can easily read only that section and be truly impressed.


Interior Designer Resume Critique:
Next, I listed your employment history, detailing your most important tasks. I began each of the bulleted sentences with the strongest action verb possible, while also revising text for clarity, conciseness, and maximum impact.


For example: In your email to ResumeEdge you stated: "Started design firm at 23. Was youngest designer to ever do this. Worked with important VIPs, mainly actors and actresses, in designing interiors for their mansions."


I revised and separated that data into an accomplishment and a bulleted sentence that read:


· Recognized as the youngest design entrepreneur with the launching of Designs by Sara.


· Established interior design / boutique catering to high net-worth clientele, including stars of stage, screen, and television.


Interior Designer Resume Critique:
In the next section, I listed your Education under the subheading "Academic Background." Here, I mentioned the "Francois Designation for Outstanding Interior Design Work."


I ended your resume with your professional associations.


Although you had listed ten, I reduced the number of associations to the two most important - "Vice-President, Interior Designers of America, 1999-Present" and "Member, European Designers, 1997-Present."

Much of the data I excluded was due to your memberships having expired. Also, relevancy was a consideration. The excluded data would have added little to your already stellar background.


All decisions to modify or exclude data were in keeping with the guidelines and standards set forth by the Professional Association of Resume Writers (PARW).


It was a pleasure serving you, Sara.

Best of luck in all your future endeavors.

ResumeEdge Editor
Certified Professional Resume Writer (CPRW)
Free Online Resume Builder Tool: Use this tool to build a high quality resume in about ten minutes.
Top Resume Builder
Over 180 easy-to-use proven resume and cover letter
templates and examples that guarantee job offers in 30 days.
TopResumeBuilder.com

Create Your Resume In 9 1/2 Minutes With the FREE "Top Resume Builder"!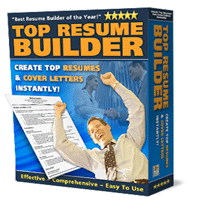 Struggling to write your resume? Worried about getting job offers? Get the FREE Top Resume Builder ($97 value) now!
Save hours writing your resume.
Save hundreds of dollars hiring a professional writer.
Over 35 proven resume templates created by a resume expert.
No software to install. All templates are in Microsoft Word format.
Immediate download so that you can start right away.
Hurry! We are offering the Top Resume Builder for . After that date, we're selling it for $49.97. So get it free now before it's too late!
Just subscribe to our free Top Career Newsletter by submitting your name and email below. And we'll send you the Top Resume Builder right away.
Note: The Top Resume Builder will be emailed to you. So please submit your actual email.
Privacy Policy: Your email address is Private and Confidential and will NOT be rented or sold to any party. You can unsubscribe at anytime. We hate spam as much as you do!
Click Here For More Interior Designer Resume And Proven Resume Tips.