How To Write A Resume
The following is a great article on how to write a resume. If you want to learn how to write a resume, this is a must-read article. Enjoy!
Free Online Resume Builder Tool: Use this tool to build a high quality resume in about ten minutes.
Six Steps to a Blockbuster Resume
by ResumeEdge.com
A resume has one purpose – to market your skills, achievements, professional background, academic history, and future potential to a prospective employer.
Much like a 30-second commercial, today's resume must provide maximum data as quickly as possible, differentiate you from all other candidates, and be attractively packaged.
Impossible, you think? Not at all. Writing a winning resume simply takes thought and planning. After all, you wouldn't drive from Los Angeles to Manhattan without mapping the surest route. The same goes for your resume.
By using the ResumeEdge© six-step process, you'll gain perspective on your career target and the audience you need to reach, learn how to showcase your strengths, minimize your weaknesses, and produce a document with maximum punch.
The ResumeEdge© Process
| | |
| --- | --- |
| • Step One: | Targeting Your Career and Audience |
| • Step Two: | Formatting for Maximum Impact |
| • Step Three: | Skill Set and Qualifications Summary |
| • Step Four: | Accomplishments and Special Skills |
| • Step Five: | Professional Experience |
| • Step Six: | Education and Training |
STEP ONE: Targeting Your Career and Audience
You must have a clear idea of what you want to accomplish in your professional life in order to maximize the impact of your resume for your targeted audience -- the hiring manager or graduate school admissions director.
Before you begin, ask yourself these questions. Are you:
Making a lateral move?

Seeking a promotion?

Career transitioning?

Pursuing admission into a graduate program?*
For numbers 1-3 above, the most effective way to begin targeting your resume is to search openings that appeal to you on job boards (i.e. Monster, Hot Jobs. CareerJournal), internal company postings, or newspaper classifieds.
With these in hand, you can highlight the qualifications you will need to be considered and the duties you would be expected to assume. Every match in terms of qualifications and experience will serve as key words** in your resume, as well as provide focus so that the resume can be tailored for your targeted audience.
The more closely the content of your resume matches the content of these postings, the more likely you will be asked to interview.
* Resumes provided for graduate school admission showcase your skills, professional experience, accomplishments, and academic history in much the same way as "job" resumes.
The difference is that an admissions resume will focus on what transitions well to the classroom, not to the workplace.
** Key words include industry-specific jargon or acronyms (i.e. "generally accepted accounting principles" (GAAP) for accountants;
"Certified Professional Resume Writer" (CPRW) for resume writers;
"Series 7 licensing" for brokers; "initial public offering" (IPO) for investment bankers;
"at-risk child" for social workers;
"Level 2 Training" for physicians;
"intellectual property law" for attorneys;
"triage" for nurses;
and nouns or noun phrases indicating qualifications or required tasks (i.e. general ledger, word processing, contract negotiations, benefits, payroll, closing (for sales people); catering services, new menu items, capacity planning (for chefs); logistics, quality assurance, advertising campaigns, product launches, staffing, training, orientations.
Companies that employ scanners require a set number of hits on key words before the hiring manager will personally review the applicant's resume. It is always wise to incorporate as many key words as possible into your resume.
Free Online Resume Builder Tool: Use this tool to build a high quality resume in about ten minutes.
Top Resume Builder
Over 180 easy-to-use proven resume and cover letter
templates and examples that guarantee job offers in 30 days.
TopResumeBuilder.com

Create Your Resume In 9 1/2 Minutes With the FREE "Top Resume Builder"!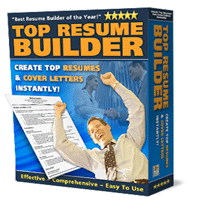 Struggling to write your resume? Worried about getting job offers? Get the FREE Top Resume Builder ($97 value) now!
Save hours writing your resume.
Save hundreds of dollars hiring a professional writer.
Over 35 proven resume templates created by a resume expert.
No software to install. All templates are in Microsoft Word format.
Immediate download so that you can start right away.
Hurry! We are offering the Top Resume Builder for . After that date, we're selling it for $49.97. So get it free now before it's too late!
Just subscribe to our free Top Career Newsletter by submitting your name and email below. And we'll send you the Top Resume Builder right away.
Note: The Top Resume Builder will be emailed to you. So please submit your actual email.
Privacy Policy: Your email address is Private and Confidential and will NOT be rented or sold to any party. You can unsubscribe at anytime. We hate spam as much as you do!
Click Here For More How To Write A Resume Tips.