High School Resume Example
Here's A Critique of A High School Resume:


Dear Ronald ~


Given your superior academic qualifications, I chose a "Professional" format for your resume. This style is what business executives most often use. It employs the Times New Roman font resulting in an elegant, uncluttered document that hiring managers and admissions directors find aesthetically pleasing.


I began your resume by centering your name and increasing the font size so that it would stand out from the rest of the text. I then placed your most important contact information (phone number and email) flush left and flush right, respectively. Now, an admissions director can easily locate this data.
Free Online Resume Builder Tool: Use this tool to build a high quality resume in about ten minutes.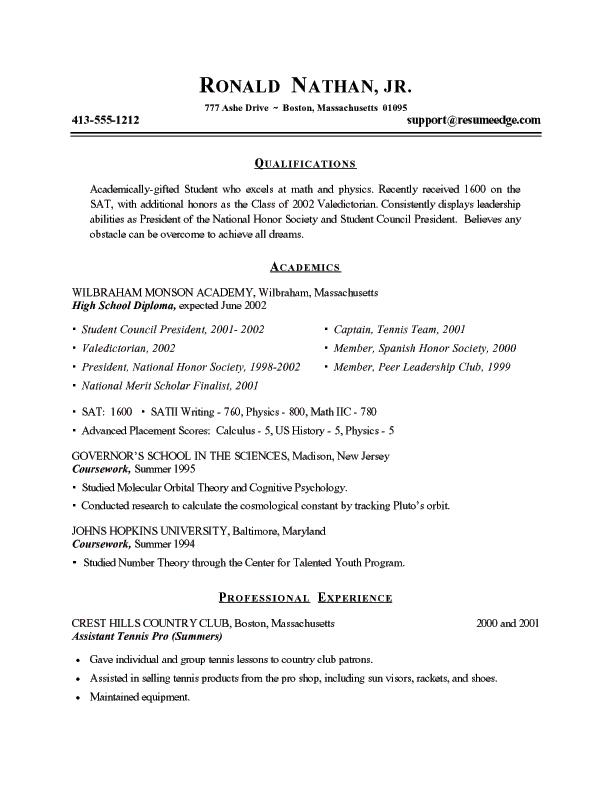 High School Resume Tip:
In the body of the resume, I began with a Qualifications Summary. Whereas many of your contemporaries will opt for an Objective, I advise against it. An Objective simply states what you want, while a Qualifications Summary goes further.
It offers an admissions director keen insight into what you have to offer the targeted school. As a bright young person, who's obviously headed for success, you can well understand the power of placing someone else's needs above your own.


In this brief summary, I describe you as "Academically gifted…," then list your strengths in math and physics. I next wrote of your stellar performance in the SAT and that you have been chosen to be class Valedictorian.


High School Resume Tip:
The following subheading is entitled, "Academics." Here, I listed each of the schools you attended and what you achieved, making certain to employ adequate white space so that the data can be easily read.


The final section of the resume is your Professional Experience. Although it doesn't relate to your career goal of math and physics, it does show additional industry on your part.

The final document is quite powerful in organization and appearance.

All decisions to modify data were in keeping with the guidelines and standards of the Professional Association of Resume Writers (PARW).

It was a pleasure serving you, Ronald.

Best of luck in your college years.

ResumeEdge Editor
Certified Professional Resume Writer (CPRW)
Free Online Resume Builder Tool: Use this tool to build a high quality resume in about ten minutes.
Top Resume Builder
Over 180 easy-to-use proven resume and cover letter
templates and examples that guarantee job offers in 30 days.
TopResumeBuilder.com

Create Your Resume In 9 1/2 Minutes With the FREE "Top Resume Builder"!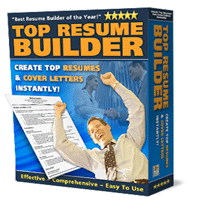 Struggling to write your resume? Worried about getting job offers? Get the FREE Top Resume Builder ($97 value) now!
Save hours writing your resume.
Save hundreds of dollars hiring a professional writer.
Over 35 proven resume templates created by a resume expert.
No software to install. All templates are in Microsoft Word format.
Immediate download so that you can start right away.
Hurry! We are offering the Top Resume Builder for . After that date, we're selling it for $49.97. So get it free now before it's too late!
Just subscribe to our free Top Career Newsletter by submitting your name and email below. And we'll send you the Top Resume Builder right away.
Note: The Top Resume Builder will be emailed to you. So please submit your actual email.
Privacy Policy: Your email address is Private and Confidential and will NOT be rented or sold to any party. You can unsubscribe at anytime. We hate spam as much as you do!
Click Here For More High School Resume And Proven Resume Tips.