Free Sample Resume
Here's A Critique of A Free Sample Resume:


Dear Donna ~


Not only are your qualifications impressive, but your industry - Fashion - is so unique and compelling that I agree with your choice of Design #11 which combines the "accomplishment" facets of an "executive" template with more stylish aspects. The result is both dynamic and aesthetically pleasing.


I began your resume by employing a Qualifications section. This brief paragraph summarizes and emphasizes your many talents. Unlike an objective that tells a hiring manager what you want, a Qualifications summary tells them what you can offer their company.
Free Online Resume Builder Tool: Use this tool to build a high quality resume in about ten minutes.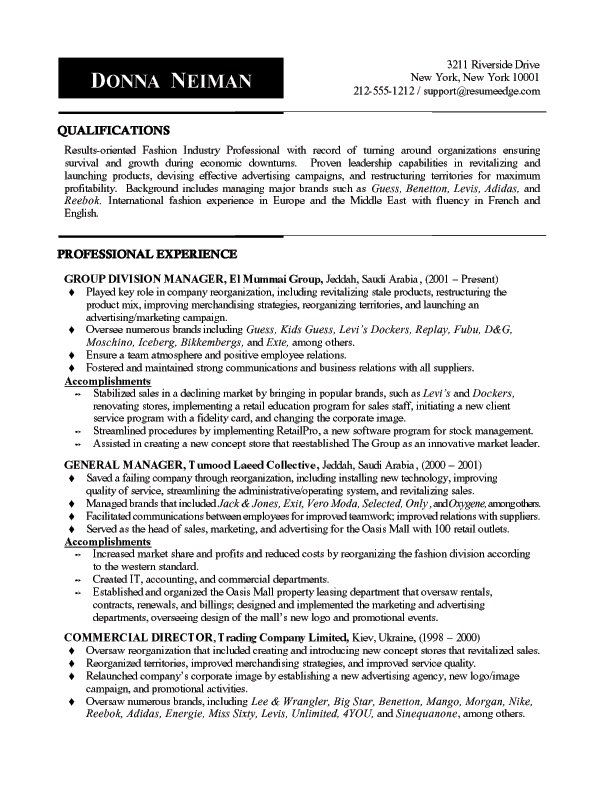 Free Sample Resume Tip:
You're sending a powerful message when you put a hiring manager's needs over your own. Too, your objective would necessarily limit the companies where you could distribute the resume. Now, you can place your objective in a cover letter, tailoring it to fit the specific company.


I wrote that you're results-oriented and that you "successfully reorganized numerous organizations ensuring survival and growth during economic downturns." I then wrote of your leadership capabilities in "…revitalizing and launching products, devising effective advertising campaigns, and restructuring territories for maximum profitability." I mentioned some of the better-known brands that you managed, then ended with your linguistic capabilities - a plus in today's world marketplace.


Free Sample Resume Tip:
In the Professional Experience section, I separated your accomplishments from the rest of the text, and began each bullet point with the strongest action verb possible, while also revising the text for clarity, conciseness, and maximum impact.


I pick and chose the sentence fragments you supplied as well as the results of the phone interview to create what I consider a very compelling resume. I also formatted your web resume to look exactly like this traditional resume.


Free Sample Resume Tip:
I ended your resume with the education section.


In many instances, I either combined data or excluded it, especially the repeated mention of ensuring employee teamwork. To repeat this beneath each job listing is redundant and really doesn't add to your other, excellent qualifications. Best to state this in the first two jobs and allow other duties to come forward in the following listings.


All decisions to modify or exclude data were in keeping with the guidelines and standards set forth by the Professional Association of Resume Writers (PARW).

With this resume you now have a powerful tool that's well organized and filled with pertinent data.

It was a pleasure serving you, Donna.

Best of luck in all your future endeavors.

ResumeEdge Writer
Certified Professional Resume Writer (CPRW)
Free Online Resume Builder Tool: Use this tool to build a high quality resume in about ten minutes.
Top Resume Builder
Over 180 easy-to-use proven resume and cover letter
templates and examples that guarantee job offers in 30 days.
TopResumeBuilder.com

Create Your Resume In 9 1/2 Minutes With the FREE "Top Resume Builder"!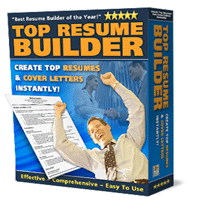 Struggling to write your resume? Worried about getting job offers? Get the FREE Top Resume Builder ($97 value) now!
Save hours writing your resume.
Save hundreds of dollars hiring a professional writer.
Over 35 proven resume templates created by a resume expert.
No software to install. All templates are in Microsoft Word format.
Immediate download so that you can start right away.
Hurry! We are offering the Top Resume Builder for . After that date, we're selling it for $49.97. So get it free now before it's too late!
Just subscribe to our free Top Career Newsletter by submitting your name and email below. And we'll send you the Top Resume Builder right away.
Note: The Top Resume Builder will be emailed to you. So please submit your actual email.
Privacy Policy: Your email address is Private and Confidential and will NOT be rented or sold to any party. You can unsubscribe at anytime. We hate spam as much as you do!
Click Here For More Free Sample Resume And Proven Resume Tips.