Free Resume Tips
Here are free resume tips that you should keep in mind when writing your resume:

1) Keep your resume to 2 or 3 pages. Emphasize quality not quantity.

2) Leave out your current salary. Some employers use salary to filter candidates.

3) Leave out your references. You can give the employer your references during the interview.

4) Focus on your achievements and not just your job duties. Ensure that the achievements are relevant to the position.

5) List your work history for only the last 10 years if you have 10 or more years of experience.

6) Place your contact information on every page. Hence, even if a page is lost, the employer can still contact you.

7) Number all the pages if your resume has more than a page.

8) Leave out your age, race and marital status. Some companies return resumes that contain personal information that may lead to discrimination.

9) Customize your career objective according to the job that you are applying for. A customized objective increases your chances for interviews.

10) Proofread for grammatical and spelling errors. Employers see errors as sloppy work. Have someone other than yourself read your resume. Sometimes you are too close to your own work to be objective.

11) Distribute your resume to as many employers as possible. The more employers see your resume, the higher your chances in securing interviews and eventually job offers.

12) Here's the final free resume tip: Post your resume at all top job websites such as Monster, HotJobs, Headhunter and CareerBuilder. Again, this substantially increases your chances in obtaining interviews.

Free Online Resume Builder Tool: Use this tool to build a high quality resume in about ten minutes.
Top Resume Builder
Over 180 easy-to-use proven resume and cover letter
templates and examples that guarantee job offers in 30 days.
TopResumeBuilder.com

Create Your Resume In 9 1/2 Minutes With the FREE "Top Resume Builder"!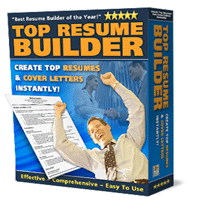 Struggling to write your resume? Worried about getting job offers? Get the FREE Top Resume Builder ($97 value) now!
Save hours writing your resume.
Save hundreds of dollars hiring a professional writer.
Over 35 proven resume templates created by a resume expert.
No software to install. All templates are in Microsoft Word format.
Immediate download so that you can start right away.
Hurry! We are offering the Top Resume Builder for . After that date, we're selling it for $49.97. So get it free now before it's too late!
Just subscribe to our free Top Career Newsletter by submitting your name and email below. And we'll send you the Top Resume Builder right away.
Note: The Top Resume Builder will be emailed to you. So please submit your actual email.
Privacy Policy: Your email address is Private and Confidential and will NOT be rented or sold to any party. You can unsubscribe at anytime. We hate spam as much as you do!
Click Here For More Free Resume Tips And Proven Resume Tips.