Free resume templates: Pro and Cons
Free resume templates are available all over the internet. Even Microsoft Word offers a few resume templates that you can use. But should you use them? After all, they are free and they definitely save you time from setting up them yourself.

Let's look at the pros and cons of free templates.

Pros:
They save you money, obviously. Because they're free, you don't need to spend a dime on them.

They save you time. Most free templates will contain the essential sections such as career objective, work history and education.
Cons:
Your resume may not stand out from the pile. Since the templates are free, they are easily available to everyone. And hence, thousands of people will be using them.

This makes it difficult for your resume to stand out. Remember, looks are important. Many people still judge books by their cover. In addition, first impression counts. You want to impress the recruiter with an attractive design that doesn't scream 'me too.'

The free resume template formats may not be suitable for you. Most free templates are formatted chronologically. But what if you have gaps in your employment history? What if you are changing careers?

You'll need a resume with functional format for those circumstances. Also what if you have published works? How do you format them in your resume? In addition, some free templates include sections that are unnecessary such as salary and references.

Free resume templates do not have guides to help you write your resume. Having an attractively designed resume is only half the equation. You must know what to write, what to include and exclude.
So, free resume templates do come with a price. You may want to consider these factors before using them.
Free Online Resume Builder Tool: Use this tool to build a high quality resume in about ten minutes.
Top Resume Builder
Over 180 easy-to-use proven resume and cover letter
templates and examples that guarantee job offers in 30 days.
TopResumeBuilder.com

Create Your Resume In 9 1/2 Minutes With the FREE "Top Resume Builder"!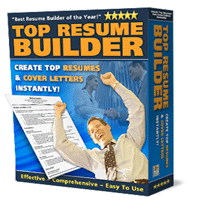 Struggling to write your resume? Worried about getting job offers? Get the FREE Top Resume Builder ($97 value) now!
Save hours writing your resume.
Save hundreds of dollars hiring a professional writer.
Over 35 proven resume templates created by a resume expert.
No software to install. All templates are in Microsoft Word format.
Immediate download so that you can start right away.
Hurry! We are offering the Top Resume Builder for . After that date, we're selling it for $49.97. So get it free now before it's too late!
Just subscribe to our free Top Career Newsletter by submitting your name and email below. And we'll send you the Top Resume Builder right away.
Note: The Top Resume Builder will be emailed to you. So please submit your actual email.
Privacy Policy: Your email address is Private and Confidential and will NOT be rented or sold to any party. You can unsubscribe at anytime. We hate spam as much as you do!
Click Here For More Free Resume Templates And Proven Resume Tips.