Free resume samples: An effective functional resume
At Top Resume Tips we study free resume samples to help jobseekers like yourself learn to use effective techniques in resume writing. Below is an example of a chronological resume of an IT professional. Spend the next 3 minutes reading it and we'll discuss it shortly. (Names and addresses exist only in the writer's mind.)

Free Online Resume Builder Tool: Use this tool to build a high quality resume in about ten minutes.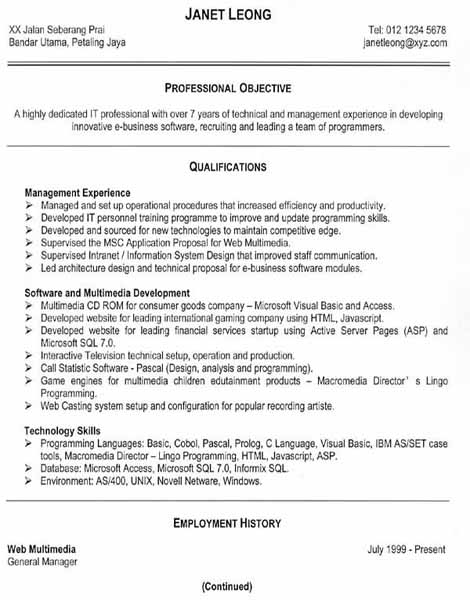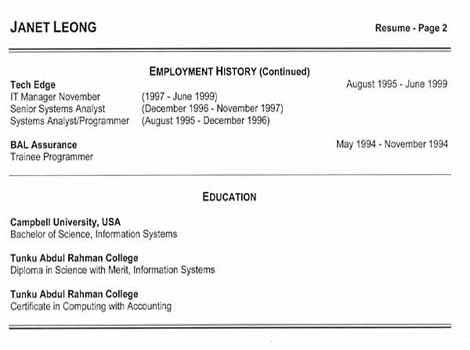 This is a functional resume which means that it emphasizes the jobseeker's skills and experience and NOT her work history. The most common, but not necessarily the only reason, that job hunters use a functional resume is to de-emphasize the gaps in their work history.
In her resume, Janet chose to focus on her management and technology skills and the projects that she has completed.
The Good
She used action verbs like 'managed' and 'developed' to describe her accomplishments.

Her descriptions demonstrate the results she has achieved. For instance:

- Managed and set up operational procedures that increased efficiency and productivity.

Employers would be impressed by such achievements because it displays her abilities to increase revenue and reduce costs for them, which are the ultimate goals of any business.
The Bad
Although Janet mentioned her achievements, she should be more specific in her descriptions.

For instance, she can say that she 'increased efficiency and productivity by 25%.'

If her competitor has the similar achievement but is more specific in his descriptions of his achievements, he has an edge over her.

In the Employment History section, Janet should leave out the months of her stint at each company. They are irrelevant and by including them, she may raise questions about the gap in her history.
Nevertheless, this free resume sample is a Top Resume with only a few areas that need improvement.
Top Resume Builder
Over 180 easy-to-use proven resume and cover letter
templates and examples that guarantee job offers in 30 days.
TopResumeBuilder.com

Create Your Resume In 9 1/2 Minutes With the FREE "Top Resume Builder"!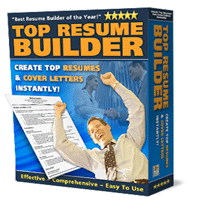 Struggling to write your resume? Worried about getting job offers? Get the FREE Top Resume Builder ($97 value) now!
Save hours writing your resume.
Save hundreds of dollars hiring a professional writer.
Over 35 proven resume templates created by a resume expert.
No software to install. All templates are in Microsoft Word format.
Immediate download so that you can start right away.
Hurry! We are offering the Top Resume Builder for . After that date, we're selling it for $49.97. So get it free now before it's too late!
Just subscribe to our free Top Career Newsletter by submitting your name and email below. And we'll send you the Top Resume Builder right away.
Note: The Top Resume Builder will be emailed to you. So please submit your actual email.
Privacy Policy: Your email address is Private and Confidential and will NOT be rented or sold to any party. You can unsubscribe at anytime. We hate spam as much as you do!
Click Here For More Free Resume Samples And Proven Resume Tips.