Free resume examples: An effective chronological resume
As you know, Top Resume Tips offers free resume examples to help jobseekers like yourself learn to analyze effective techniques in resume writing. Hence, below is an example of a chronological resume of a marketing professional. Study it and we'll discuss it shortly. (Names and addresses exist only in the writer's mind.)

Free Online Resume Builder Tool: Use this tool to build a high quality resume in about ten minutes.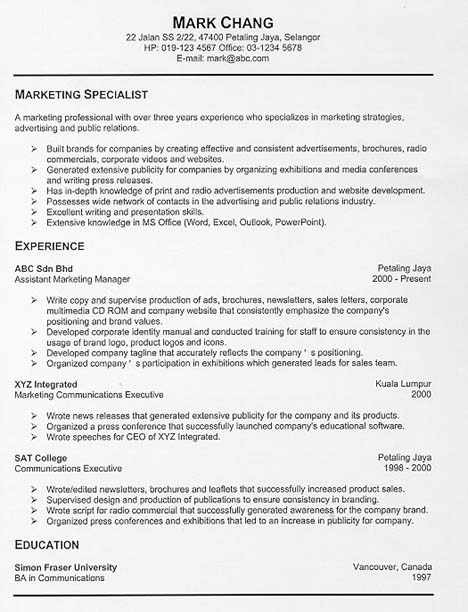 Done? Good, let's begin.
The Good: Action speaks louder than words
Mark used action verbs to describe his achievements which is the most effective way to write your achievements as well as your duties and responsibilities.
The Good: So What?
Most of his achievements also answered the employer's 'so what' question. For instance, see how he stated that he 'wrote news releases that generated extensive publicity for the company and its products.'
Employers are more interested in your results than your job duties. So, by emphasizing how his work benefited his previous company, he has effectively sold his skills and experience to the employer who reads his resume.
The Bad: Profile
Mark's profile needs additional selling points to have an impact. For instance, he should add a positive adjective such as 'Highly dedicated' to 'marketing professional.'
Furthermore, he could have also mentioned how his experience in marketing and advertising can benefit the employer.
So, a more effective Profile would be:
Highly dedicated marketing professional with over 3 years experience in marketing strategies, advertising and public relations to build great brands and increase market share.
Overall, this free resume example is a Top Resume with a minor blemish. With this resume, Mark has successfully secured numerous interviews and was offered jobs in public-listed companies.
Free Online Resume Builder Tool: Use this tool to build a high quality resume in about ten minutes.
Top Resume Builder
Over 180 easy-to-use proven resume and cover letter
templates and examples that guarantee job offers in 30 days.
TopResumeBuilder.com

Create Your Resume In 9 1/2 Minutes With the FREE "Top Resume Builder"!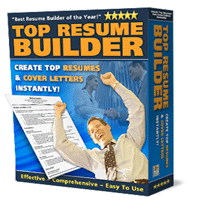 Struggling to write your resume? Worried about getting job offers? Get the FREE Top Resume Builder ($97 value) now!
Save hours writing your resume.
Save hundreds of dollars hiring a professional writer.
Over 35 proven resume templates created by a resume expert.
No software to install. All templates are in Microsoft Word format.
Immediate download so that you can start right away.
Hurry! We are offering the Top Resume Builder for . After that date, we're selling it for $49.97. So get it free now before it's too late!
Just subscribe to our free Top Career Newsletter by submitting your name and email below. And we'll send you the Top Resume Builder right away.
Note: The Top Resume Builder will be emailed to you. So please submit your actual email.
Privacy Policy: Your email address is Private and Confidential and will NOT be rented or sold to any party. You can unsubscribe at anytime. We hate spam as much as you do!
Click Here For More Free Resume Examples And Proven Resume Tips.