Executive Resume
Here's Critique of an Executive Resume:


Dear Donna,


Given the fact that you are targeting business school and investment banking, I chose an "executive" style format for your resume. The executive-style format employs the Times New Roman font and is organized for conciseness and clarity, while also retaining an airy, uncluttered look. The resulting document is easy to read and quite elegant in appearance.


I began the resume by increasing the size of your name for emphasis. Next, I separated your contact information, with your address centered and your phone number and email address at either margin. This way, a hiring manager or admissions committee member can easily locate this data. I assumed that the hotmail address you used in your email to ResumeEdge is the most current address and I used it rather than the umich address from your old resume.
Free Online Resume Builder Tool: Use this tool to build a high quality resume in about ten minutes.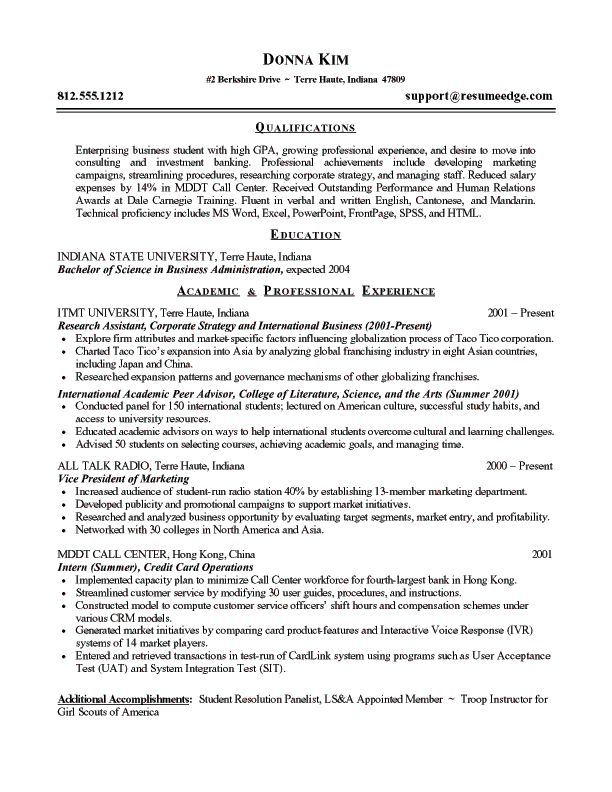 Executive Resume Critique:
In the body of the resume, I added a "Qualifications" section. This brief paragraph uses information pulled from throughout your resume to highlight some of your most impressive skills, including marketing, research, and management. In this section I emphasized your Carnegie awards, language fluency, and technical skills. This section gives hiring managers/admissions committees a quick summary of your assets.


Next, I listed your Education. In the following section, I listed your Professional Experience.


Throughout the Professional Experience section, I rewrote each bullet item to emphasize your accomplishments and achievements. I began each bullet point with the strongest action verb possible, while also rewriting and condensing the text for maximum impact.


Executive Resume Critique:
For example, you wrote:


"Analyzed the global franchising industry with emphases on 8 Asian countries, including Japan and China; determined factors that contributed to Subway's respective development."


I rewrote this to read:


Charted Taco Tico's expansion into Asia by analyzing global franchising industry in eight Asian countries, including Japan and China.


Executive Resume Critique:
In another example, you wrote:


"Established and oversaw 13-member marketing department to increase audience rate by 40% for this entirely student-run radio station."


I rewrote this to read:


Increased audience of student-run radio station 40% by establishing 13-member marketing department.


I ended your resume with a short list of "Additional Accomplishments." This includes your experience on the student resolution panel and with the Girl Scouts. I recommend that you spell out "LS&A" for hiring managers unfamiliar with that abbreviation.


Modern resumes typically omit references to extracurricular activities and hobbies, but since your business school application requests them, I included them here. As you accumulate more professional experience, such items will become unnecessary and should be deleted.


All decisions to modify or exclude data were in keeping with the guidelines and standards set forth by the Professional Association of Resume Writers (PARW).

With this resume, you now have a powerful tool that's well organized and aesthetically pleasing. It was a pleasure serving you, Donna.

Good luck in business school and your developing career.

ResumeEdge Editor
Certified Professional Resume Writer (CPRW).
Free Online Resume Builder Tool: Use this tool to build a high quality resume in about ten minutes.
Top Resume Builder
Over 180 easy-to-use proven resume and cover letter
templates and examples that guarantee job offers in 30 days.
TopResumeBuilder.com

Create Your Resume In 9 1/2 Minutes With the FREE "Top Resume Builder"!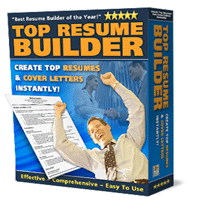 Struggling to write your resume? Worried about getting job offers? Get the FREE Top Resume Builder ($97 value) now!
Save hours writing your resume.
Save hundreds of dollars hiring a professional writer.
Over 35 proven resume templates created by a resume expert.
No software to install. All templates are in Microsoft Word format.
Immediate download so that you can start right away.
Hurry! We are offering the Top Resume Builder for . After that date, we're selling it for $49.97. So get it free now before it's too late!
Just subscribe to our free Top Career Newsletter by submitting your name and email below. And we'll send you the Top Resume Builder right away.
Note: The Top Resume Builder will be emailed to you. So please submit your actual email.
Privacy Policy: Your email address is Private and Confidential and will NOT be rented or sold to any party. You can unsubscribe at anytime. We hate spam as much as you do!
Click Here For More Executive Resume Tips.