Employment cover letter
Here's Critique of employment cover letter:


Dear Russell,


For consistency, I began your cover letter using the same heading as that on your resume. This affords a professional look to your "employment" package.


I began the letter by stating your interest in bringing years of expertise in airline operations and ground security to Fly Right Avionics Enterprises. I then wrote: "In these troubled times, I know I can add to public safety and security in the transportation industry."
Free Online Resume Builder Tool: Use this tool to build a high quality resume in about ten minutes.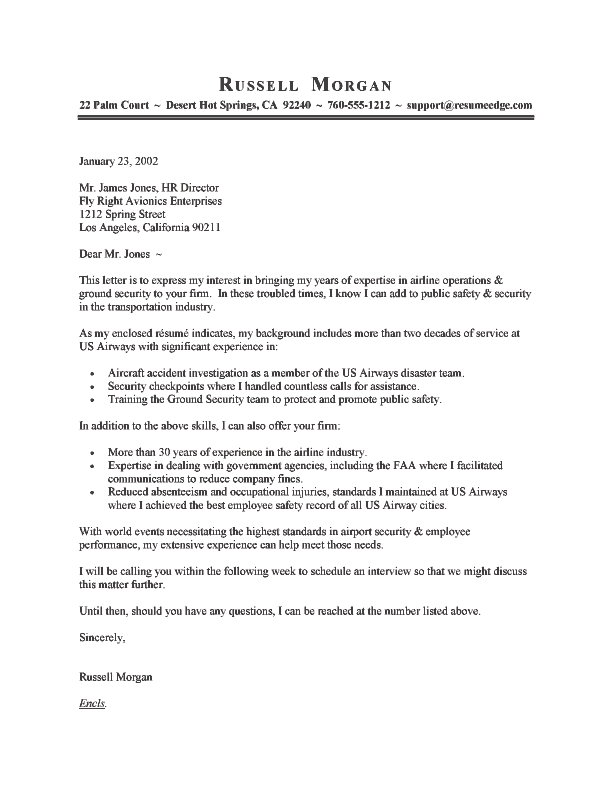 Employment cover letter critique:
I went on to write of your 20 years with US Airways, then bulleted those skills that would interest a hiring manager. These included your aircraft investigation experience, your work at security checkpoints, and ground security training.


I then added another bulleted section to present your other skills, including your 30+ years in the airline industry, your expertise in dealing with government agencies (including the FAA), and your ability to reduce absenteeism and occupational injuries.


I next restated the need for heightened security in these troubled times.

Employment cover letter critique:
I then wrote, "I will be calling you within the following week to schedule an interview so that we might discuss this matter further." In the industry, it's not only accepted, but expected that the prospective employee contact the hiring manager, rather than waiting for them to contact you. This puts you in the driver's seat. It also clearly indicates your interest in the job.


I then ended the letter with the usual parting remarks.

All decisions to include or modify data were in keeping with the guidelines and standards of the Professional Association of Resume Writers (PARW).

With this cover letter, you now have a powerful tool that's well-organized, intriguing, and aesthetically pleasing.

It was a pleasure serving you again, Russell.

Best of luck in all your future endeavors.

CyberEdit Editor
Certified Professional Resume Writer.
Free Online Resume Builder Tool: Use this tool to build a high quality resume in about ten minutes.
Top Resume Builder
Over 180 easy-to-use proven resume and cover letter
templates and examples that guarantee job offers in 30 days.
TopResumeBuilder.com

Create Your Resume In 9 1/2 Minutes With the FREE "Top Resume Builder"!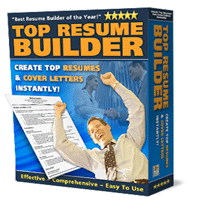 Struggling to write your resume? Worried about getting job offers? Get the FREE Top Resume Builder ($97 value) now!
Save hours writing your resume.
Save hundreds of dollars hiring a professional writer.
Over 35 proven resume templates created by a resume expert.
No software to install. All templates are in Microsoft Word format.
Immediate download so that you can start right away.
Hurry! We are offering the Top Resume Builder for . After that date, we're selling it for $49.97. So get it free now before it's too late!
Just subscribe to our free Top Career Newsletter by submitting your name and email below. And we'll send you the Top Resume Builder right away.
Note: The Top Resume Builder will be emailed to you. So please submit your actual email.
Privacy Policy: Your email address is Private and Confidential and will NOT be rented or sold to any party. You can unsubscribe at anytime. We hate spam as much as you do!
Click Here For More Employment Cover Letter And Proven Resume Tips.