Cover letter writing tip: Four elements of a great cover letter
Top cover letter writing tips: Cover letters are absolutely necessary. Submitting a resume without a cover letter is equivalent to sending junk mail. The same type of junk mail that you find in your mailbox everyday.

Like junk mail, a resume without a letter is impersonal. It does not address the reader and it assumes that the reader will know the intentions of the jobseeker.

If an employer were to choose candidates for interviews, he will definitely pick the ones that have a letter addressed to him.

Free Online Resume Builder Tool: Use this tool to build a high quality resume in about ten minutes.

Top cover letter writing tip:
A personal letter shows initiative, a quality all employers look for in a candidate.

And since a cover letter is imperative, you should know how to write one. A powerful cover letter must do four things:
Attract attention: Your letter should start with a bang. Most cover letters are bland and filled with 'me-too' opening paragraphs.

Generate interest: Talk about your achievements. Some recruiters don't even look at resumes. So make sure that you mention your achievements in your letter.

Create desire: Show them why you would make a perfect fit in the organization, what is it that makes you different.

Call for action: And finally, the letter should induce the reader to contact you for an interview. If he/she doesn't, the letter has failed to meet its objective.
With these four elements, you will stand out from the crowd and should successfully obtain interviews with any employer.
Free Online Resume Builder Tool: Use this tool to build a high quality resume in about ten minutes.
Top Resume Builder
Over 180 easy-to-use proven resume and cover letter
templates and examples that guarantee job offers in 30 days.
TopResumeBuilder.com

Create Your Resume In 9 1/2 Minutes With the FREE "Top Resume Builder"!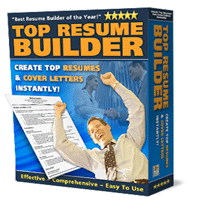 Struggling to write your resume? Worried about getting job offers? Get the FREE Top Resume Builder ($97 value) now!
Save hours writing your resume.
Save hundreds of dollars hiring a professional writer.
Over 35 proven resume templates created by a resume expert.
No software to install. All templates are in Microsoft Word format.
Immediate download so that you can start right away.
Hurry! We are offering the Top Resume Builder for . After that date, we're selling it for $49.97. So get it free now before it's too late!
Just subscribe to our free Top Career Newsletter by submitting your name and email below. And we'll send you the Top Resume Builder right away.
Note: The Top Resume Builder will be emailed to you. So please submit your actual email.
Privacy Policy: Your email address is Private and Confidential and will NOT be rented or sold to any party. You can unsubscribe at anytime. We hate spam as much as you do!
Click Here For More Cover Letter Writing Tip And Proven Resume Tips.