College Resumes: Resume example of a new graduate
Writing college resumes for new graduates is a challenge even for experienced resume writers. The biggest problem with college resumes is that most new graduates possess minimal relevant experience. Hence, they have fewer achievements compared to an experienced job seeker.

Without prior work experience, it is difficult for any employer to evaluate the candidate's ability to do the job. So as a new graduate, you must analyze and assess your relevant skills as well as develop a list of relevant achievements that you can include in your resume.

It is better to OVERsell than to UNDERsell. This is not the time to be modest.

Free Online Resume Builder Tool: Use this tool to build a high quality resume in about ten minutes.

Check out the college resume example below: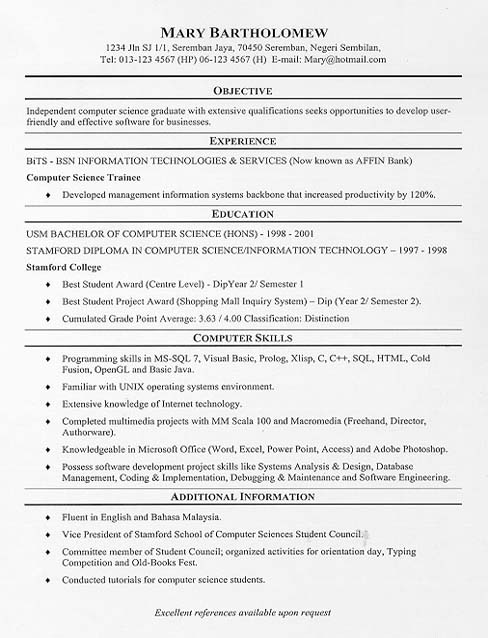 Your Objective is crucial as it is the first section an employer reads. It is your 5- second elevator pitch. In her Career Objective, Mary states her qualifications and the value that she brings to an employer i.e. develop user-friendly and effective software for businesses.
Many graduates make the mistake of writing a self-centered career objective. For instance: Seeking a challenging environment that will allow me to learn and grow.
Sorry, but getting a job is NEVER about your needs. A Top Resume should always address the employer's needs.
In fact, Mary can go one step further by stating the type of software that she's interested in developing. Employers prefer candidates who are focused over those who provide vague descriptions of their career objectives.
Under the Experience section, she includes her short stint at a bank. By placing it at the top of her resume, it will attract employers' attention and give her an edge over other new graduates.
Then, in the Education section, she provides her enviable academic achievements. Remember, if you've got, flaunt it! Of course, if you didn't get great grades in college, just leave them out.
Next, she lists the Skills that are relevant to her Career Objective. Notice that she doesn't include any irrelevant skills like shorthand or sales skills, even if she may be great at them. Again, keep your resume focused.
Finally, she lists her co-curricular activities that are related to the job she seeks. Her college activities are an important demonstration of her leadership abilities.
As college resumes are difficult to write, you'll have to dig deep to find relevant skills and academic achievements that will differentiate you from other new graduates.
Free Online Resume Builder Tool: Use this tool to build a high quality resume in about ten minutes.
Top Resume Builder
Over 180 easy-to-use proven resume and cover letter
templates and examples that guarantee job offers in 30 days.
TopResumeBuilder.com

Create Your Resume In 9 1/2 Minutes With the FREE "Top Resume Builder"!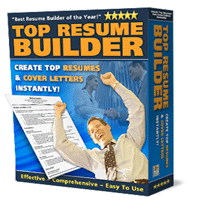 Struggling to write your resume? Worried about getting job offers? Get the FREE Top Resume Builder ($97 value) now!
Save hours writing your resume.
Save hundreds of dollars hiring a professional writer.
Over 35 proven resume templates created by a resume expert.
No software to install. All templates are in Microsoft Word format.
Immediate download so that you can start right away.
Hurry! We are offering the Top Resume Builder for . After that date, we're selling it for $49.97. So get it free now before it's too late!
Just subscribe to our free Top Career Newsletter by submitting your name and email below. And we'll send you the Top Resume Builder right away.
Note: The Top Resume Builder will be emailed to you. So please submit your actual email.
Privacy Policy: Your email address is Private and Confidential and will NOT be rented or sold to any party. You can unsubscribe at anytime. We hate spam as much as you do!
Click Here For More College Resumes And Proven Resume Tips.