College Resume Example
Here's A Critique of A College Resume:


Dear Pamela,


As you requested in your order, I revised your resume according to Design Six. Though entry-level resumes are usually formatted with the Education section placed first, I compliment you on choosing this design, as it is best suited for someone like yourself who has a professional background.


In the body of the resume, I began with the Profile section. I revised this section to emphasize your academic accomplishments that are business related. Computer skills are highly regarded, so I was careful to carry that over in your profile.
Free Online Resume Builder Tool: Use this tool to build a high quality resume in about ten minutes.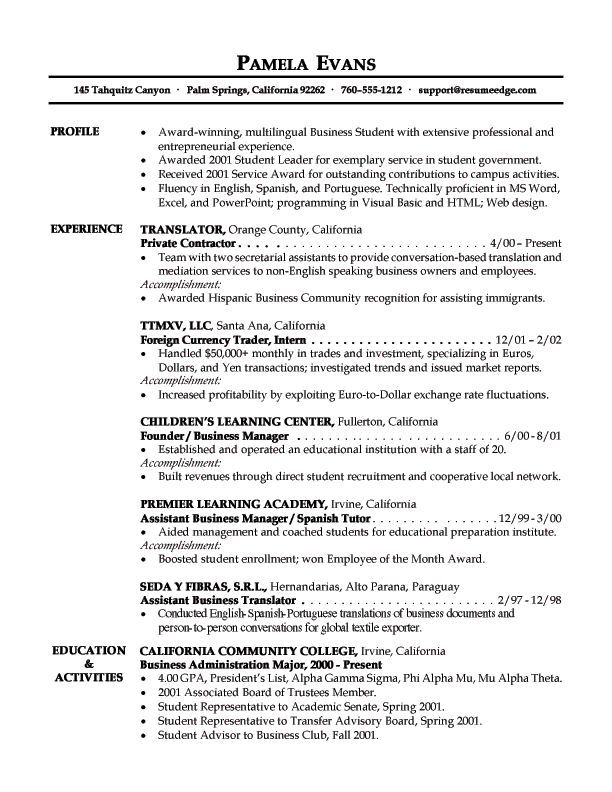 College Resume Tip:
In the following Experience section, I began each bullet point with the strongest action verb possible, while also rewriting the text for maximum impact. Since the dollar value in the only statement that included a dollar value was in US currency, I removed "USD" from it, replacing it with the US dollar symbol according to the Gregg Reference Manual. You'll notice that the resultant job description statement is strong and concise, while not leaving out the most vital information from the original resume.


For example, you wrote:


· Foreign currency trader, directly handled over USD 50K per month in trades and investment.


· Investigated currency trends, issued reports on international markets, and specialized in transactions involving Euros, Dollars, and Yen.


College Resume Tip:
I rewrote this to read:


Handled $50,000+ monthly in trades and investment, specializing in Euros, Dollars, and Yen transactions; investigated trends and issued market reports.


You'll also note that I pulled out accomplishments for each job heading. In this manner, a hiring manager can readily and easily see what you did while an intern and entrepreneur.


All decisions to modify or exclude data were in keeping with the guidelines and standards set forth by the Professional Association of Resume Writers (PARW).

With this resume, you now have a powerful personal marketing tool that's well-organized and aesthetically pleasing. It was a pleasure serving you, Pamela.

I wish you all the best.

ResumeEdge Editor
Certified Professional Resume Writer (CPRW)
Free Online Resume Builder Tool: Use this tool to build a high quality resume in about ten minutes.
Top Resume Builder
Over 180 easy-to-use proven resume and cover letter
templates and examples that guarantee job offers in 30 days.
TopResumeBuilder.com

Create Your Resume In 9 1/2 Minutes With the FREE "Top Resume Builder"!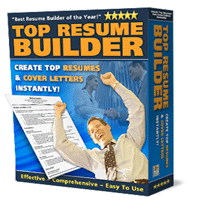 Struggling to write your resume? Worried about getting job offers? Get the FREE Top Resume Builder ($97 value) now!
Save hours writing your resume.
Save hundreds of dollars hiring a professional writer.
Over 35 proven resume templates created by a resume expert.
No software to install. All templates are in Microsoft Word format.
Immediate download so that you can start right away.
Hurry! We are offering the Top Resume Builder for . After that date, we're selling it for $49.97. So get it free now before it's too late!
Just subscribe to our free Top Career Newsletter by submitting your name and email below. And we'll send you the Top Resume Builder right away.
Note: The Top Resume Builder will be emailed to you. So please submit your actual email.
Privacy Policy: Your email address is Private and Confidential and will NOT be rented or sold to any party. You can unsubscribe at anytime. We hate spam as much as you do!
Click Here For More College Resume And Proven Resume Tips.