Artist Resume Example
Here's A Critique of An Artist Resume:


Dear Racheal:


It was a pleasure speaking with you yesterday regarding your need for a unique and visually-arresting resume that will instantly capture the attention of a hiring manager.
Free Online Resume Builder Tool: Use this tool to build a high quality resume in about ten minutes.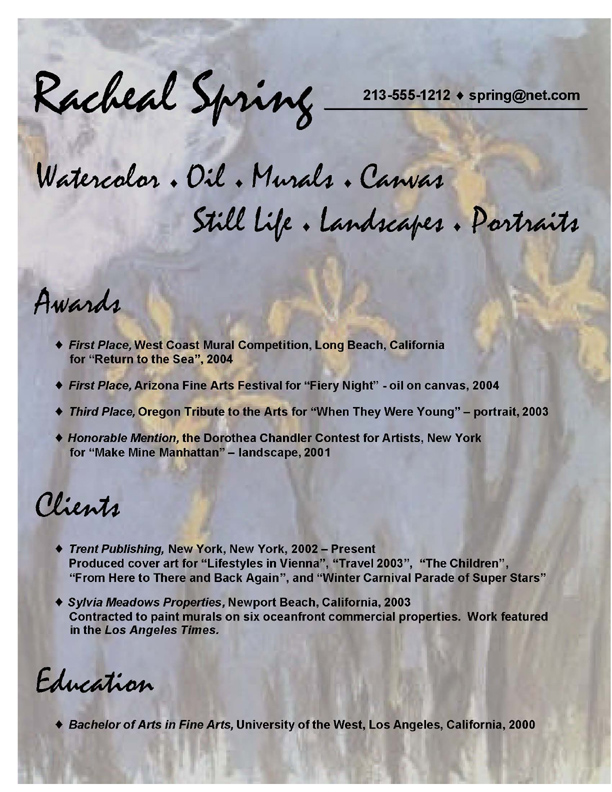 Artist Resume Critique:
As we discussed, I used your most recent oil painting Raised to the Sun as the backdrop for your resume. It provides visual impact, while also giving the reader a sense of your talent and style. In order to ensure that the text was readable, I reduced the vibrant colors to softer shades.


Rather than overwhelm the reader with large blocks of text and employment details that have no relevancy to your artistic career (i.e. your work at the bank and fast-food establishment during college), I chose to showcase three areas of your background: Awards, Clients, Education.
These section headings, like your name and the opening listing of the media you work in (Watercolor, Oil, etc.), are in the Mistral font which lends an "artistic" air to the data presentation.


Artist Resume Critique:
In listing "Awards" first, the hiring manager instantly recognizes that your chosen industry recognizes and has rewarded your obvious talent. Although you were awarded frequently during your college years, those awards do not have the same impact as ones gained in the professional arena.
Too, listing those awards would have added more text to the document, thereby obscuring the graphic backdrop. Given that that would not enhance your candidacy, I opted to exclude early awards.


Artist Resume Critique:
Next, I listed your clients, which are impressive. You indicated to me during our phone conversation that you want to expand on your work in the publishing field. There is no better way to do that than listing the covers you have done for Trent Publishing – titles that are well-known to readers.


Last, I listed your education as its importance is not as great at this point as are your industry awards and your client list.


Given the structure and appearance of your new resume, you can easily use this document as a flyer or advertisement to promote your work. This resume can also be expanded by ResumeEdge.com into a brochure that will provide even greater detail into your expertise, while showcasing more samples of your work.


All decisions to modify or exclude data were in keeping with the guidelines and standards set forth by the Professional Association of Resume Writers (PARW).


It was a pleasure working on this creative resume with you, Racheal. Best of luck in all your artistic endeavors.

ResumeEdge.com Editor
Certified Professional Resume Writer (CPRW)
Free Online Resume Builder Tool: Use this tool to build a high quality resume in about ten minutes.
Create Your Resume In 9 1/2 Minutes With the FREE "Top Resume Builder"!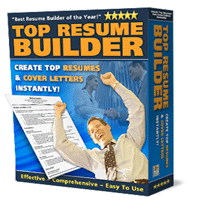 Struggling to write your resume? Worried about getting job offers? Get the FREE Top Resume Builder ($97 value) now!
Save hours writing your resume.
Save hundreds of dollars hiring a professional writer.
Over 35 proven resume templates created by a resume expert.
No software to install. All templates are in Microsoft Word format.
Immediate download so that you can start right away.
Hurry! We are offering the Top Resume Builder for . After that date, we're selling it for $49.97. So get it free now before it's too late!
Just subscribe to our free Top Career Newsletter by submitting your name and email below. And we'll send you the Top Resume Builder right away.
Note: The Top Resume Builder will be emailed to you. So please submit your actual email.
Privacy Policy: Your email address is Private and Confidential and will NOT be rented or sold to any party. You can unsubscribe at anytime. We hate spam as much as you do!
Click Here For More Artist Resume And Proven Resume Tips.