Actor Resumes: Top Resume Tips for Actors
One of the most common creative resumes is actor resumes.Creative resume allows jobseekers in professions that demand creativity such as art, design and acting to showcase their talents.

As an actor, first impression is everything. Your actor resume will probably be the first contact point with an agent or an audition coordinator. Thus, if you are inexperienced in writing and designing creative resumes, we highly recommend that you seek professional assistance. The last thing you want to do in the entertainment business is to embarrass yourself.

Free Online Resume Builder Tool: Use this tool to build a high quality resume in about ten minutes.

So, if possible, stick to conventional actor resumes, just like the resume example below.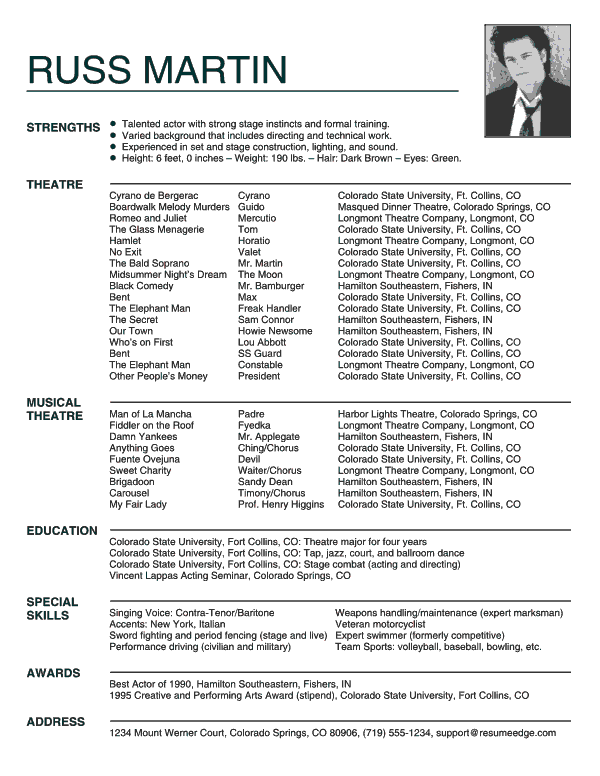 Here are some additional Top Resume Tips to get you started on your path to stardom.
Always include your recent photograph in hardcopy if you are snail mailing. If you are emailing, scan your photo in 72 dpi resolution and save it in jpeg format. This is to ensure that the photo file is small yet clear enough for the receiver to download and view.

Provide a brief physical description of yourself. The description should include your height, weight, color of your hair and eyes.

Next, list of all your screen and stage credits, even if your role was minor. This is to establish the fact that you are NOT a novice.

Skills: This is an important section that can help differentiate you from other aspiring Harrison Fords and Julia Roberts. If you have any special skills like foreign languages, singing, fighting, sports, include them. Provide specific situations where it helped the film and/or stage production, if possible.

Awards: If you've got it, flaunt it. This is NOT the time to be modest. Competition is incredibly intense in show business, so sometimes you have to shout to get noticed.

Your educational section should be included last because even if you have an MBA, it won't get you a job unless you have the talent. In a creative industry, talent and perseverance is everything.
Free Online Resume Builder Tool: Use this tool to build a high quality resume in about ten minutes.
Top Resume Builder
Over 180 easy-to-use proven resume and cover letter
templates and examples that guarantee job offers in 30 days.
TopResumeBuilder.com

Create Your Resume In 9 1/2 Minutes With the FREE "Top Resume Builder"!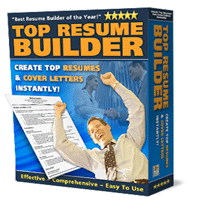 Struggling to write your resume? Worried about getting job offers? Get the FREE Top Resume Builder ($97 value) now!
Save hours writing your resume.
Save hundreds of dollars hiring a professional writer.
Over 35 proven resume templates created by a resume expert.
No software to install. All templates are in Microsoft Word format.
Immediate download so that you can start right away.
Hurry! We are offering the Top Resume Builder for . After that date, we're selling it for $49.97. So get it free now before it's too late!
Just subscribe to our free Top Career Newsletter by submitting your name and email below. And we'll send you the Top Resume Builder right away.
Note: The Top Resume Builder will be emailed to you. So please submit your actual email.
Privacy Policy: Your email address is Private and Confidential and will NOT be rented or sold to any party. You can unsubscribe at anytime. We hate spam as much as you do!
Click Here For More Actor Resumes And Proven Resume Tips.