Sample Accounting Resume
Here's A Critique of An Accounting Resume:

Dear Carole ~

Given your solid professional achievements at Leverpol & Solomon and Accellor & Damien, I chose an "accomplishments" resume to best display your qualifications. This format emphasizes the superiority of your work and is the one most used by professionals.

I began your resume with a large name to make it stand out from the rest of the text. I then separated your contact information (phone number and email), placing one to the left and the other to the right so that a hiring manager could easily locate this data.
Free Online Resume Builder Tool: Use this tool to build a high quality resume in about ten minutes.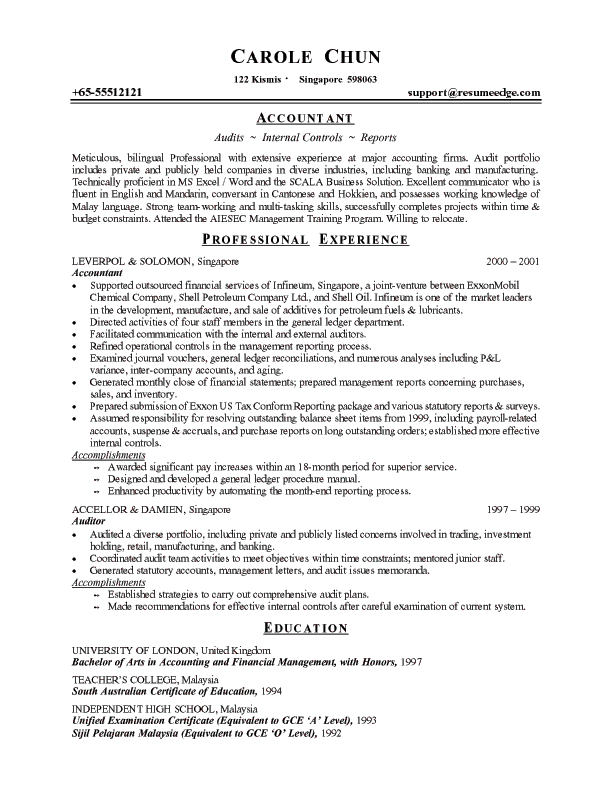 Accounting Resume Critique
In the body of the resume, I began with the tag "Accountant." At a glance, a hiring manager can see where you've been and where your career is headed. Beneath this, in italics, I listed your skill set – audits, internal controls, and reports. I then wrote a brief qualifications summary that emphasizes and summarizes your most important qualities.


Unlike an Objective that tells a hiring manager what you want, a Qualifications Summary shows what you can do for that person's company. You're sending a powerful message when you put a hiring manager's needs above your own.


In this summary, I describe you as meticulous – a much sought after trait in an accountant. I went on to write of your bilingual capabilities and your solid experience at major accounting firms. I added your technical skills in Excel, Word, and SCALA, then added that you attended the AIESEC Management Training Program. I ended this section with reference to your willingness to relocate.


I detailed your work history in the Professional Experience section. Rather than list your general accounting activities first beneath the Leverpol & Solomon heading, I chose your management duties. In the industry, management information is always provided first to indicate your leadership capabilities and future potential for the hiring firm.
Accounting Resume Critique
Here, I also separated your accomplishments from the rest of the text making certain to begin each sentence with the strongest action verb possible, while also revising data for clarity, conciseness, and maximum impact.


For example, you wrote:


"Supervised a team of four in the GL department."


I revised that to read:


"Directed activities of four staff members in the general ledger department." Although the change in wording is slight, its impact is significant as it now sounds more professional and "directed" is a stronger verb than "supervised."


In another example, you wrote:


"Coordinated audit team to meet the tight reporting deadlines and the audit objectives."


I revised that to read:


"Coordinated audit team activities to meet objectives within time constraints…" Again, the slight change tightened the sentence, making it sound more professional.

I ended your resume with an education section. Generally, in US resumes, high school data isn't provided. Given that you're seeking employment in Shanghai or Singapore, I felt this information might be required.


Accounting Resume Critique
In order to keep your resume to one page per your request, I excluded your summer job at Six Flags Over Mid-America. The job bears no relevancy to your professional career, nor is it necessary to include. Your schooling ended in 1997, at which time you began working at KPMG, with no significant time gaps.

I also excluded most of your extracurricular activities (again, due to space considerations). They, like your job at Six Flags, bear little relevancy to your career – except for your AIESEC management training.


Although your last date of employment is in 2001, a resume should not indicate why you're not working in 2002. That information is best left to the interview process or, if you prefer, mention it in a cover letter, which is more informal than a resume.

All decisions to modify or exclude data were in keeping with the guidelines and standards set forth by the Professional Association of Resume Writers (PARW).

With this resume, you now have a powerful tool that's well organized and filled with pertinent data, while also being aesthetically pleasing.

It was a pleasure serving you, Carole.

Best of luck in all your future endeavors.

ResumeEdge Editor
Certified Professional Resume Writer (CPRW)
Free Online Resume Builder Tool: Use this tool to build a high quality resume in about ten minutes.
Create Your Resume In 9 1/2 Minutes With the FREE "Top Resume Builder"!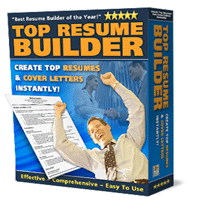 Struggling to write your resume? Worried about getting job offers? Get the FREE Top Resume Builder ($97 value) now!
Save hours writing your resume.
Save hundreds of dollars hiring a professional writer.
Over 35 proven resume templates created by a resume expert.
No software to install. All templates are in Microsoft Word format.
Immediate download so that you can start right away.
Hurry! We are offering the Top Resume Builder for . After that date, we're selling it for $49.97. So get it free now before it's too late!
Just subscribe to our free Top Career Newsletter by submitting your name and email below. And we'll send you the Top Resume Builder right away.
Note: The Top Resume Builder will be emailed to you. So please submit your actual email.
Privacy Policy: Your email address is Private and Confidential and will NOT be rented or sold to any party. You can unsubscribe at anytime. We hate spam as much as you do!
Click Here For More Accounting Resume Examples.