Accountant Cover Letter Example
Here's A Critique of An Accountant Cover Letter:


Dear Dennis,


In order to present your skills in a traditional manner for a traditional business (finance and accounting), I chose an elegant format for your cover letter. It's simple and understated, yet filled with pertinent information regarding your unique set of capabilities.


Because the first sentence of a cover letter is critical in securing a hiring manager's attention, I wrote of your experience as a Field Associate for Premiere Financial Group in Irvine.
Free Online Resume Builder Tool: Use this tool to build a high quality resume in about ten minutes.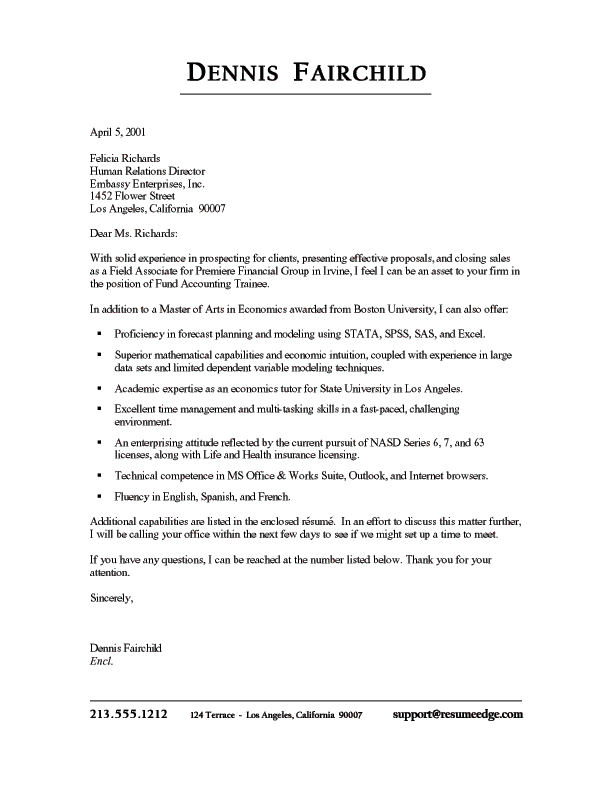 Accountant Cover Letter Tip:
I realize that you began your cover letter by mentioning your Master's degree, however, your advanced degree could be a drawback in a trainee position. I noted that the job only required a BA / BS. Therefore, I thought it best to begin with your real world experience.


In the next, bulleted section, I began by writing of your Master of Arts in Economics, then detailed what you could offer the targeted firm. This includes your proficiency in forecast planning and modeling, superior mathematical capabilities and economic intuition, excellent time management and multi-tasking skills, your pursuit of NASD and Health / Life insurance licensing, and finally your fluency in English, Spanish, and French.


Accountant Cover Letter Tip:
I did not include the personal data about your coming to America without friends or family. That information is best brought out during the interview process as a way to "break the ice." A cover letter should contain data relevant to your job search, and the bulleted list of capabilities certainly shows your enterprising attitude and your desire to succeed.


Accountant Cover Letter Tip:
I indicated that a resume would be included with the letter, and then wrote, "In an effort to discuss this matter further, I will be calling your office within the next few days to see if we might set up a time to meet." In the business world it's not only accepted, but also expected that a prospective employee make that first call, rather than waiting for contact from the hiring manager. This shows your professionalism and your interest in the job.


I ended the letter by thanking the company representative. At this point, the eye is drawn to your contact information at the bottom of the letter - phone number, physical address, and email.

All decisions to modify or exclude data were in keeping with the guidelines and standards set forth by the Professional Association of Resume Writers (PARW).

With this cover letter you now have a powerful tool that's well organized and filled with pertinent data, while also being aesthetically pleasing.

It was a pleasure serving you, Dennis.

Best of luck in all your future endeavors.

ResumeEdge Writer
Certified Professional Resume Writer (CPRW)
Free Online Resume Builder Tool: Use this tool to build a high quality resume in about ten minutes.
Create Your Resume In 9 1/2 Minutes With the FREE "Top Resume Builder"!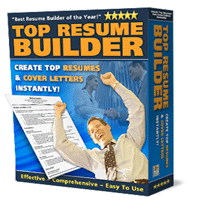 Struggling to write your resume? Worried about getting job offers? Get the FREE Top Resume Builder ($97 value) now!
Save hours writing your resume.
Save hundreds of dollars hiring a professional writer.
Over 35 proven resume templates created by a resume expert.
No software to install. All templates are in Microsoft Word format.
Immediate download so that you can start right away.
Hurry! We are offering the Top Resume Builder for . After that date, we're selling it for $49.97. So get it free now before it's too late!
Just subscribe to our free Top Career Newsletter by submitting your name and email below. And we'll send you the Top Resume Builder right away.
Note: The Top Resume Builder will be emailed to you. So please submit your actual email.
Privacy Policy: Your email address is Private and Confidential and will NOT be rented or sold to any party. You can unsubscribe at anytime. We hate spam as much as you do!
Click Here For More Accountant Cover Letter And Proven Resume Tips.