Academic Cover Letter Example
Here's A Critique of An Academic Cover Letter:


Dear Thomas,


After careful study of your resume, submitted cover letter, and personal statement, I targeted your cover letter for the international studies field and the Master's program you are again seeking at Johns Hopkins University.


I began by providing a statement as to your commitment to enter the 2002 Fall Term - "This letter confirms my decision to reapply to your Master's program for the 2002 Fall Term."
Free Online Resume Builder Tool: Use this tool to build a high quality resume in about ten minutes.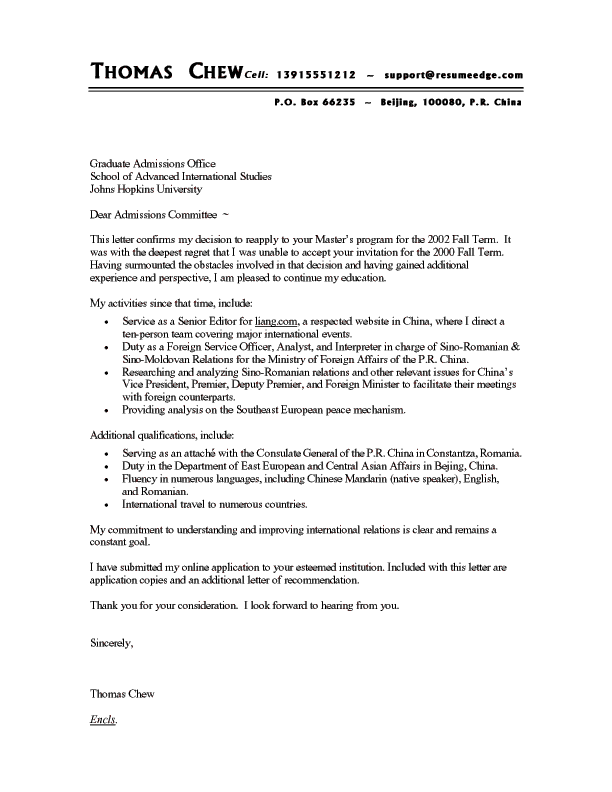 Academic Cover Letter Tip:
Because you had previously declined an invitation to that program, I tried to explain why. "It was with the deepest regret that I was unable to accept your invitation for the 2000 Fall Term. Having surmounted the obstacles involved in that decision and having gained additional experience and perspective, I am pleased to continue my education."


I then included a bulleted section that clearly states your activities since you last applied to Johns Hopkins. Here, I emphasized experience relevant to international studies. This included:

· The fact that you're the Senior Editor of liang.com, directing a ten-person team in coverage of major international events.

· Your duty as a foreign service officer, analyst, and interpreter in charge of Sino-Romanian & Sino-Moldovan Relations for the Ministry of Foreign Affairs of the P.R. China.

· The research and analysis you did on Sino-Romanian relations and other relevant issues for the Vice President, Premier, Deputy Premier, and Foreign Minister to facilitate their meetings with foreign counterparts.

· And the analysis you conducted on the Southeast European peace mechanism.


Academic Cover Letter Tip:
I then added your additional qualifications for an international studies program. This bulleted section includes:

· Your serving as an attaché with the Consulate General of the P.R. China in Constantza, Romania.

· Duty in the Department of East European and Central Asian Affairs in Beijing, China.

· Fluency in numerous languages, including Chinese Mandarin (native speaker), English, and Romanian.

· And International travel to various countries.


To prove your determination to enter this program I then wrote: "My commitment to understanding and improving international relations is clear and remains a constant goal."


I then wrote that you have submitted an online application and that your cover letter includes application copies and an additional letter of recommendation.


I did not include the data you provided in your personal statement. It was geared towards medicine, not International Studies, and I felt held no relevancy towards your current career goals.


All decisions to modify or delete information were in keeping with the guidelines and standards of the Professional Association of Resume Writers (PARW).

With this letter, you now have a powerful tool that's targeted to International Studies, while clearly presenting your qualifications, experience, skills, and determination to reach that goal.

It was a pleasure serving you, Thomas.

Good luck in all your future endeavors.

ResumeEdge Editor
Certified Professional Resume Writer (CPRW)
Free Online Resume Builder Tool: Use this tool to build a high quality resume in about ten minutes.
Click Here For More Academic Cover Letter And Proven Resume Tips.